Idaho State University College of Education professors write manual to help K-12 superintendents/school boards tackle budget cuts
May 25, 2010
ISU Marketing and Communications
Two Idaho State University College of Education emeritus professors have authored a new manual "Survival in a Down Economy, A Budget Reduction Process for Superintendents" that is designed to help k-12 school superintendents and school boards to tackle severe budget cuts.
The Idaho State University emeritus professors are Gene Davis and Jack Coffland, whose manual consists of proven methods that can garner community and staff support to address severe budget cuts in schools districts. The process was developed by Davis when he served as superintendent of a school district facing a 24 percent budget cut over two years. The process was subsequently used in additional school districts facing severe budget cuts.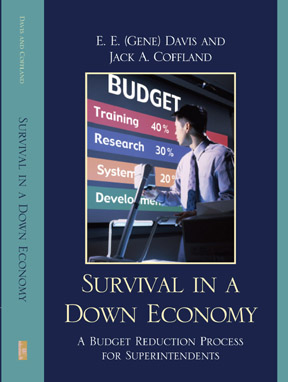 "This manual is an easy to use, practical guide that all superintendents in any size or type of school district will find extremely helpful as they deal with complex school district revenue shortfalls," said Thomas Kersten, assistant professor of school finance, Roosevelt University in Chicago, and former superintendent, Skokie Public Schools, Illinois. "These timely, realistic case studies of actual school district funding problems faced by superintendents illustrate well the six step, district-wide process recommended."
The manual provides specific steps and strategies to create effective employee and community involvement with identifying budget cuts that result in achieving a balanced budget with little or no acrimony, according to its authors. Worksheets are provided for each step in the process.
"School financing operations are challenging across the country. This manual contains wisdom for leadership that is required to manage school resources and to improve student achievement – at the same time balancing fiscal resources and accountability," said Guy G. Bellville, chief financial officer, Cherry Creek Schools, Colorado. "As a chief financial officer, the advice on allocating resources during tough economic times is invaluable and will be used to assist our district in accomplishing our educational mission."
This manual is especially geared to superintendents of school districts who need to implement a proven plan of action for immediate and long-term financial uncertainty.
"I have been directly involved with school district finance for the past 14 years," said Scott Crane, superintendent, Blackfoot School District 55, Idaho. "I have experienced both 'years of plenty' and 'years of drought.' The information contained in this manual provides the tools for a budget reduction to be conducted in an atmosphere of cooperation and trust."
The authors are clear about the manual's purpose and content.
"This is not a typical planning manual, designed for normal budgeting," said Theodore H. Creighton, professor of educational leadership and director of research and doctoral studies, at Virginia Tech University, and a former executive director of the National Council of Professors of Educational Administration. "It discusses budget planning for hard times, especially in times of financial crisis."
The authors, Davis and Coffland have extensive experience in leading school districts and university programs preparing teachers and administrators.
The manual can be purchased online at www.aasa.org and www.rowmaneducation.com.
###
---
Categories: