CW HOG Alpine Tower Challenge Course open for use; open house set May 15
April 6, 2010
ISU Marketing and Communications
The Idaho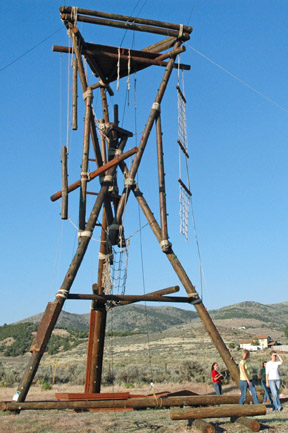 State University Cooperative Wilderness Handicapped Outdoor Group (CW HOG) Alpine Tower Challenge Course is available for public use now through mid fall and will host an open house on Saturday, May 15, from 1 to 6 p.m.
The course is located across the street from the Idaho Department of Fish and Game's Southeast Region Office at the corner of Alvin Ricken Drive and Barton Road in Pocatello.
"The Alpine Tower Challenge Course is a physical-challenge facility openly available for groups for business outings to birthday parties, from the challenge of physical fitness or just for fun," said Bob Ellis, CW HOG outdoor recreation coordinator.
The Alpine Tower Challenge Course is a trust, confidence and strength-building course in teamwork for university, school, church, athletic, military, corporate groups, or any public and private groups of eight to 30 participants. Course participants learn group cohesion, communication and support of each other, and the course strengthens other important aspects of teamwork capability.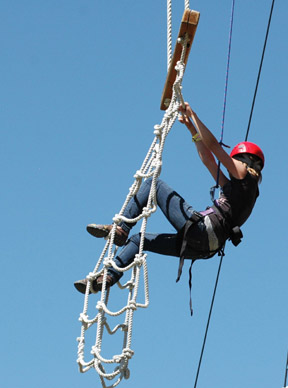 The Alpine Tower Challenge Facility is a 50-foot tower with 45 combined challenge elements designed to help build trust and confidence in decision making skills while working in teams to conquer the course. Facility staff will work individually to prepare groups to set personal and team goals and produce results realistic to the ambitions and needs of each team.
To register to use the course or for more information contact CWHOG at (208) 282-3912.
Reservation requests and group assessment forms are also at www.isu.edu/outdoor/challenge.shtml, or send inquiries to ellirobe@isu.edu.
Participation at the May 15 open house is limited to a first come-first served basis, so preregistration is advised
###
---
Categories: