Childhood sleep problems linked to young adult alcohol, drug abuse according to study by Idaho State University professor Wong
April 5, 2010
ISU Marketing and Communications
A study completed by Idaho State University's Maria Wong, associate professor of psychology, establishes the relationship between early childhood sleep problems and substance abuse in young adulthood.
"We are the first study that shows long-term relationships between early childhood sleep issues and later alcohol abuse and drug problems," Wong said. "We see a positive association between sleep and alcohol problems among adults, but it is kind of a 'chicken and the egg' question – we don't know what comes first. Our study shows that sleep problems may actually precede substance related problems."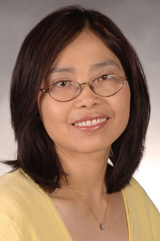 Children who had trouble sleeping in early childhood at age 3 to 5 had a higher probability of having trouble sleeping in adolescence and early use of drugs and alcohol, from age 11-17. This in turn predicted the presence of drug-related problems in young adulthood ages 18 to 21.
The results of her study titled "Childhood Sleep Problems, Response Inhibition, and Alcohol and Drug Outcomes in Adolescence and Young Adulthood," will be published in the June 2010 issue of Alcoholism: Clinical & Experimental Research and are currently available online at http://www3.interscience.wiley.com/journal/119879580/issue (hit "Early View" link to see Wong's study).
Wong is the main author on the study, which was co-authored by Kirk J. Brower and Robert A. Zucker of the Addiction Research Center and Department of Psychiatry at the University of Michigan, and Joel T. Nigg of the Department of Psychiatry at the Oregon Health and Science University. The study was funded by the National Institute on Alcohol Abuse and Alcoholism.
This study is the third in a continuation of three studies Wong and her colleagues have completed that follows 386 adolescents over a long period. Data on sleep problems and substance use were gathered during six different periods in the study participants' lives: at age 3 to 5, 6 to 8, 9 to 11, 12 to 14, 15 to 17, and 18 to 20, as well as annually from ages 11 to 17.
"This study confirmed what we suspected a few years ago when we completed our earlier study, that not only do sleep problems in early childhood predict the early onset of alcohol and drug use in adolescence, but it also predicts problems with alcohol and drug use in early adulthood," Wong said.
Overtiredness in early childhood predicted adolescents having problems inhibiting impulses and behavior, which predicted higher rates of illicit drug use. Sleep problems also predicted the presence of binge drinking, blackouts, driving after drinking alcohol, and the number of lifetime alcohol problems in young adulthood, according to Wong.
She said that nationally about 10 percent of parents and caregivers perceive their young children have sleep problems. She noted also that the prevalence of sleepiness and lack of sleep among adolescents and young adults, ages 12 to 25 years, is high and increasing in the U.S. The consequences of this can increase risk of unintentional injuries or death, such as car accidents, low academic performance, negative moods, and increased use of alcohol and drugs.
Wong noted that her study does not directly explain why this relationship exists.
"Childhood sleep problems appear to have both direct and indirect effects – via sleep trouble and response inhibition in adolescence – on subsequent substance-related outcomes," she said. "Additionally, our previous work showed childhood sleep problems were associated with early onset of alcohol and drug use, which was a well-established risk factor for subsequent alcohol and drug related problems. This suggests a marker of alcohol problems that may be detectable very early in the life course."
Wong said that it is important to increase public awareness of the significance of sleep problems in children, and their potential effect on self-control and later substance use and abuse. Substance abuse prevention and intervention programs also need to consider the relationships among sleep problems, self-control, and the increased risk for substance abuse. Furthermore, health care providers may need to become more aware of the potential serious consequences of childhood sleep problems, and provide treatment when sleep disturbances are clinically indicated.
###
About Idaho State University
Idaho State University, a Carnegie-classified doctoral research institution founded in 1901, educates approximately 14,000 students per year in more than 280 programs. It is Idaho's lead institution in health professions and medical education. Its seven colleges engage in a broad range of innovative research, teaching, and learning in the natural and physical sciences, humanities, performing and visual arts, education, engineering, business, pharmacy, and technology. Visit ISU today at www.isu.edu.
---
Categories: