Art exhibit "Two x Three = Four Artists" will run May 3-27 at ISU
April 26, 2010
ISU Marketing and Communications
The Idaho State University Pond Student Union Transition Gallery is pleased to present "Dimensions: Two x Three=Four Artists," featuring the work of Juliet Feige, Carla Jensen, Helen Livingston and Georgia Orwick.
An opening reception will be held on Monday, May 3, from 7 to 9 p.m. in the Pond Student Union Transition Gallery and the exhibit will be on display May 3-27.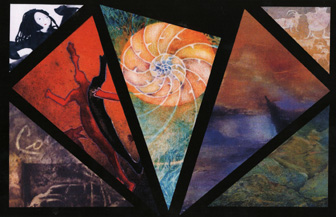 Feige attended Cardiff College of Art in Wales, United Kingdom, for three years before coming to the United States. She earned her Bachelor of Fine Arts (1997) and Master of Fine Arts (2000) degrees from Idaho State University. Feige is a signature member of the Idaho Watercolor Society (1989) and also taught as an adjunct faculty member of the Department of Art at ISU. She now teaches at the College of Education on a part time basis.
Feige says her work is the manifestation of a need to express who she is. She sees little value in attempting to replicate or reinterpret nature, so Feige's landscapes and the creatures in them exist only as depictions of dreams and vague reminiscences of things passed.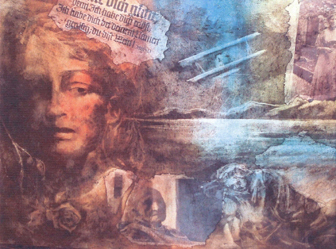 Jensen was born and raised in Aberdeen where she enjoyed creating and was always encouraged by family and community members to pursue art. Jensen credits her eighth-grade teacher Gloy Wride for introducing her to fine art. Jensen took her first art class at Idaho State University in 2001 where drawing instructor Tony Martin instilled knowledge of art that changed her life.
Jensen said her work is driven by the desire to explore and discover, "to arrange, conceal and incorporate various medium transfers and consolidate them with color." Jensen strives to intrigue viewers causing them to "look and look again – backing up and moving forward to peer on the content."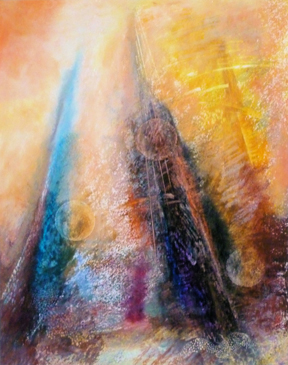 Livingston became a part of the Pocatello art scene after her move from Texas in 1998. In 1999 she enrolled in the art department at ISU and after eight years of intense preoccupation with various art techniques received her Master of Fine Arts Degree in 2007 with emphasis on painting and printmaking.
Livingston's interest in subject matter has changed considerably over the years. Livingston said that she "paints pictures about nothing except visual effects." Livingston said she strives for luscious surfaces, ethereal depths and subtle textures and hopes to communicate with the viewer on some visceral level.
Orwick was raised on the vast North Dakota prairie and her paintings are inspired by her fascination with mountains and horizons, land and seascapes, and scenes from her travels. Orwick has studied stained glass, watercolor, photography and bead work. She is currently a member of both the Pocatello Art Center and the Idaho Watercolor society.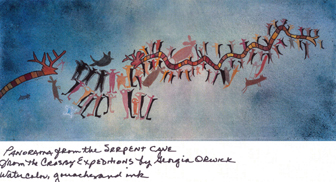 Orwick's work includes "Honoring the Ancients," a series inspired by her exploration of Baja cave paintings in the rugged mountains of Mexico. Her fascination with the exquisite artistry of the ancient painters inspired research into Baja rock art leading to Harry Crosby, the modern-day explorer who documented more than 200 previously unknown rock art sites in the 300 miles long range of mountains, the central Sierra's of the Baja peninsula. In 1971, a rancher in the remote, Sierra de San Franscisco directed Crosby to an impressive painted cave and said he was the first outsider to see it.
Crosby's discovery led to further archeological research by the Mexican government and is now the fifth largest rock art region in the world, "Los Gran Murales." Crosby has invited Orwick to paint from his images in the UCLA archives. Orwick's exhibit in the Transition Gallery includes paintings from the Crosby Expedition.
The Transition Gallery hours are Monday through Friday from 10 a.m. to 8 p.m.
For more information please contact Corinne McCullough at (208) 282-3451.
###
About Idaho State University
Idaho State University, a Carnegie-classified doctoral research institution founded in 1901, educates approximately 15,000 students per year in more than 280 programs. It is Idaho's lead institution in health professions and medical education. Its seven colleges engage in a broad range of innovative research, teaching, and learning in the natural and physical sciences, humanities, performing and visual arts, education, engineering, business, pharmacy, and technology. Visit ISU today at www.isu.edu.
---
Categories: