'Ultimate Elvis Experience' comes to Idaho State University Nov. 13
November 2, 2010
ISU Marketing and Communications
The Idaho State University a "Season of Note" series presents "Blue Suede Shoes – The Ultimate Elvis Experience" at 7:30 p.m. Saturday, Nov. 13, in the Joseph C. and Cheryl H. Jensen Grand Concert Hall in the L.E. and Thelma E. Stephens Performing Arts Center.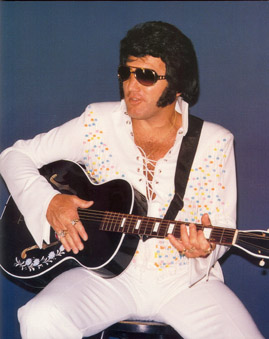 Scot Bruce and Mike Albert team up to bring a riveting tribute to the "King of Rock and Roll." Bruce performs as Elvis, the way we remember him during his early career, followed by Albert, who is superb as Elvis in his Vegas years.
Together, they attempt to recreate the electrifying musical excitement of the King, in a biographical concert that has played to sellouts across the county. Their performances feature audience interaction and a dynamite back-up band. Ticket prices are $32 main level, $28 upper level.
For more information on this shoe visit the website: www.a-c-t-s-inc.com.
Tickets are $32 main level, $28 upper level and can be purchased at the Stephens Performing Arts Center Box Office, open from 10 a.m. to 4:30 p.m. weekdays during the school year. Tickets can also be purchased over the phone at (208) 282-3595 or online at www.isu.edu/tickets or at Vickers Stores in Idaho Falls and Pocatello.
###
---
Categories: