ISU Library exhibits "End of Age" photo exhibit by Anne Merkley
November 24, 2010
ISU Marketing and Communications
Anne Merkley will exhibit her photography show "End of an Age" at the Idaho State University Eli M. Oboler Library, 850 S. 9th Ave., through January.
The exhibit may be viewed during regular library hours. For schedule changes due to the holidays, contact the library at (208) 282-3248.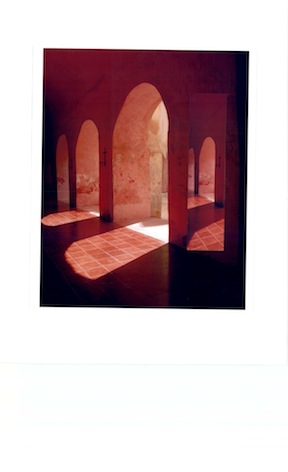 "End of an Ag" is a sequel to "The Art of Illusion," Merkley's show that recently closed in Idaho State University's Transition Gallery. Both consist of new work never seen before.
Best known for her realistic oil and watercolor portraits, Merkley also addresses the need for art that makes a statement. Photography is an alternate means to this end, and Merkley was creating collages in this medium prior to the invention of computer programs like Photoshop.
The artist explains her work in this exhibit. "Ages" in human civilization are said to last for approximately 2,000 years. If so, the Mayan culture on this continent predated Christianity in the "Old World" by an age.
During that period, Mayan high priests made predictions based on an incredibly advanced knowledge of astronomy. They cited the year 2012 as the "end time" for our current age, due to complex effects of a rare and imminent galactic alignment. Christianity has interpreted the same juncture as a moral issue.
How much of the turbulence we are experiencing on our planet today is the result of such cosmological events or a manifestation of synchronistic "parallel universes"?
This show of photo collages explores the symbolism and emotion of such questions in a visual format. It represents the pre-Columbian Mesoamerican belief system as it was replaced by Catholicism.
"Now at another apocalyptic juncture, we are faced with the entropy of Western civilization and the continuing struggle of the human spirit to fulfill its purpose in the universe," Merkley said. "Mayans, and also Hopi, did not see this as the 'end of the world' but rather the beginning of a new age."
Merkley is an artist of national recognition who has painted, taught, exhibited, garnered dozens of prizes, taken commissions and sold her work out of Pocatello for most of her adult life. She has bachelor's and master's degrees in fine arts.
Merkley also holds master's degrees in anthropology, education, and political science, with Native American and Mesoamerican emphases. She has traveled widely and worked with several programs for environmental conservation and cultural preservation in Mexico, Guatemala, Peru and Ecuador. All of Merkley's degrees are from Idaho State University.
###
---
Categories: