Idaho State University Director of Informatics Research Institute Schou invited to speak, emcee at information security events in Singapore
August 6, 2010
ISU Marketing and Communications
Corey Schou, director of the Idaho State University Informatics Research Institute, was invited in July to Singapore to be master of ceremonies at the fourth annual Asia-Pacific Information Security Leadership (ISLA) Program and to speak at the SecureAsia@Singapore conference and at three universities in Singapore.
The ASIA ISLA Program is sponsored by (ISC)2, the not-for-profit global leader in educating and certifying information security professionals throughout their careers, with nearly 70,000 certified members worldwide.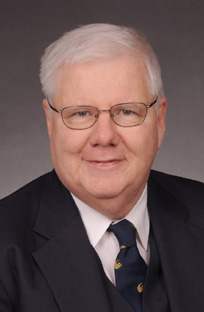 "The ISLA hosted government and private information security experts from around the world, including high-level government and corporate officials," Schou said. "The organization holds one of these events annually in Europe, Asia and Washington, D.C. They are kind of like the Emmys for information assurance professionals and I was honored to act as Master of Ceremonies introducing leaders in the field."
Through the ISLA Program, (ISC)² publicly recognizes the ongoing commitment by information security leaders throughout Asia-Pacific to build a highly qualified and ethical workforce, and broaden the public's awareness of information security. As part of (ISC)²'s Global Awards Program, ISLA aims to recognize the achievements of outstanding information security professionals who have significantly contributed to the enhancement of the workforce by demonstrating a leadership role in an information security workforce improvement initiative, program or project. More information on (ISC)² is available at www.isc2.org.
Schou also delivered a keynote speech at the SecureAsia@Singapore conference in Singapore, which is on the theme "Building a Secure Connected Future"" The title of Schou's keynote was "Building International Security Through Balance."
SecureAsia@Singapore, features the Information Security Leadership Achievements (ISLA) program, is undisputedly the Asia-Pacific's most influential gathering for information security professionals. Co-organized by (ISC)² and the Association of Information Security Professional (AiSP), the conference will bring together over 20 information security industry experts from the Americas, EMEA and the Asia-Pacific regions to share their experiences and gives an insight on a variety of issues.
The three Singapore universities Schou spoke at included, National University of Singapore, Nanyang Polytechnic, and Singapore Polytechnic.
###
---
Categories: