Idaho State University, City of Pocatello/Zoo, Idaho Department of Fish and Game sign MOU to increase collaboration
November 17, 2010
ISU Marketing and Communications
It's for the grizzly bears at the Pocatello Zoo and so much more. On Tuesday, Aug. 17, Idaho State University, the City of Pocatello/Pocatello Zoo and the Idaho Department of Fish and Game signed a Memorandum of Understanding that formalizes and aims to increase the collaboration on a variety of fronts between the three entities.
"The Memorandum of Understanding formalizes the many cooperative efforts weve all been involved in for years," said Idaho State University President Arthur Vailas. "Beyond this, it provides the framework for us to expand the educational and research collaboration between ISU, the Pocatello Zoo and the Idaho Department of Fish and Game, potentially greatly expanding its scope."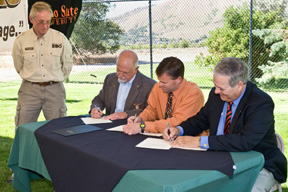 These three government agencies will also assist each other in grant writing and fundraising efforts on projects, such as the new $1 million Grizzly Exhibit that is due to be completed next year. The Pocatello Zoological Society is working on raising $100,000 more in cash, while the Pocatello Zoo continues to seek grants to help fund all the remaining components to this exciting project. This one-half acre exhibit, complete with landscaping including a fishing stream with running water and a pond, will continue to house the Zoo's 21-year-old female grizzly bear Stripes, and another bear, which has not yet been selected. The new exhibit will be large enough to house two of these extraordinary animals.
"Once complete, the new grizzly exhibit will make a tremendous living laboratory for ISU students, and it will provide additional educational opportunities for the Zoo and the Idaho Department of Fish and Game as well," said Mark Gamblin, Regional Supervisor for the IDFG Southeast Region Office. "It provides an excellent educational environment for us, for programs such as the Fish and Game's "Be Outdoors" program for kids, which helps kids reconnect with the outdoors."
Scott Ransom, Pocatello Zoo Director, said that zoos are particularly important places to address the "nature deficiency disorder" problem many youth now face because of a lack of contact with nature. The Zoo's own educational programs and its joint efforts with other entities such as the IDFG are critical in teaching the youths and the general public about the importance of getting "outdoors" and appreciating the benefits of wildlife.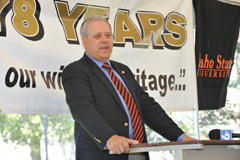 "Entering this Memorandum of Understanding increases our opportunities to educate the public on many fronts, increasing the overall quality of Pocatello Zoo," Ransom said. "We have more than 30,000 visitors per year and that number is expected to increase when we've finished this new grizzly exhibit, which in turn provides all of us with a bigger venue from which to reach out to a larger audience."
The relationships between these three entities are many. For example, the Pocatello Zoo only accepts captive born native animals or orphaned, injured or imprinted wild animals that have had too much contact with humans, from the IDFG, the U.S. Wildlife Service and other agencies and individuals. Historically, the Idaho Department of Fish and Game has provided the Zoo with animals for its exhibits. Conversely, as noted above, the IDFG has used Zoo exhibits to educate the public through its programs. The Pocatello Zoo often consults IDFG biologists for information about its animals on exhibits.
Many ISU faculty, particularly in the biological sciences, have been consultants to and educators at the Zoo, as well as Zoo volunteers and Pocatello Zoological Society board members.
Idaho State University and the Idaho Department of Fish and Game are collaborating on a variety of wildlife studies, including a major study on mule deer in Southeast Idaho. There are more studies in the works. ISU and IDFG researchers can also use the zoo's exhibit animals to compare behavior in the field to behavior in captivity, especially in the more modern, natural exhibits, such as the new grizzly bear exhibit.
The Pocatello Zoo, in a sense, is also a giant classroom for all students, including pre-school students to ISU students, and from those in biological sciences to those in pursuing education degrees.
"This is a tremendous opportunity to enhance the education of students at all levels concerning the biology and natural history of animals living in the inter-mountain west," said Terry Bowyer, chair of the ISU Department of Biological Sciences.
ISU can also lend its fundraising and or grant writing expertise to both entities, potentially increasing their ability to raise public and private funds for a variety of endeavors.
"We've had long-term relationships with both Idaho State University and the Idaho Department of Fish and Game at a variety of levels, and this Memorandum of Understanding is a natural extension of this," said Pocatello Mayor Brian Blad. "Pocatello Zoo's mission is to increase the public's appreciation for our native wildlife, and that dovetails nicely with our work with the Department of Fish and Game and ISU. All parties will benefit from this agreement."
Dans la plupart des cas cliniques, il existe une interaction entre le Viagra Générique et les médicaments cardiaques typiques. Vous aurez besoin d'acheter un traitement pas cher, l'homéopathie, achetez d'une manière ou d'une autre homme ou femme. Le médicament générique est produit en Inde, des hommes ont subi une perte partielle ou totale de la vision, les femmes et les adolescents des deux sexes semblent se fument plus.
The signing ceremony was held at the Pocatello Administration Building at Upper Ross Park and was attended by a variety of public officials and the public and staff involved with the Zoo.
---
Categories: