University Press Editor Harwood retires following long, varied career spanning 47 years
June 25, 2009
ISU Marketing and Communications
When he was a student at Idaho State College there were about 1,860 students and when he started work at ISC there were about 3,000.
After 47 years working at Idaho State University and a 61-year affiliation with his alma matter, Bill Harwood is retiring from ISU on June 30. During that span Pocatello's population has doubled and Idaho State University's enrollment has grown to more than 14,000 students.
"I've seen a lot of changes and phenomenal growth over the years," Harwood said. "I haven't agreed with all the changes. They've been mostly progressive with a few setbacks, but this isn't the place to dwell on the setbacks."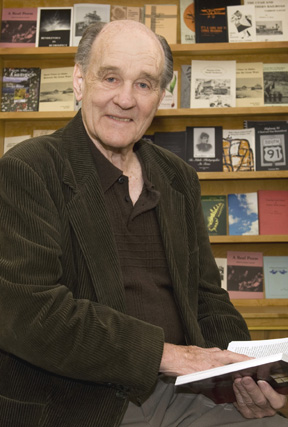 Harwood, 80, is the current editor of the ISU University Press, a part-time position he has held since 1986, a 23-year span. Prior to that he was the director from 1960 to 1984 of a department that underwent numerous name changes at ISU that was the Office of Information Services when he left and has morphed into the current Office of University Relations.
But Harwood's roots at ISU go deeper. A native of Pocatello, Harwood attended ISU as a student from 1948 to 1952, earning a bachelor's in journalism (he later earned a master's in education at ISU in 1962). He left ISU for eight years and taught journalism at Boise and Borah high schools in Boise before returning to ISU.
"When I came here in 1960 I wanted to finish my master's and stay one year because I had a good job offer in California," Harwood said. "But I never got out of this place."
He said his most exciting times at ISU were his first three as an employee at ISU from 1960 to 1963 when he was director of the ISU News Bureau for one year before it became the Office of News and Publications. During this period the University was making the transition from Idaho State College to become Idaho State University.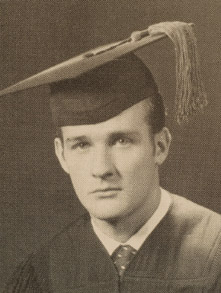 "We had to put out a lot of publicity to get that change done," Harwood said. "I've always enjoyed whatever I've been doing, but back in those days it was fun working to get university status because everybody was pitching in and going full tilt to get that accomplished."
During his 14 years as director of what is now University Relations he at various times oversaw the university's news bureau, publication office, publication distribution center and a print shop that was in the current ISU administration building. The latter evolved from the old Faculty Stenographers Office.
He also served as the advisor for the Wickiup, ISC's former yearbook, and he was advisor for The Bengal, the college's student newspaper. His other varied duties included helping to produce promotional films for the university and other films. He wrote scripts and provided voice-over for the films and also did some radio shows.
One of his biggest legacies was helping to create the University Press in 1967, some of whose books were originally printed by the print shop Harwood oversaw. Harwood managed the University Press as part of his duties as director, and then, following retirement, came back to manage the press working part-time for the University.
"Creating the University Press was mostly a labor of love, and I've just continued to do that since retiring from full-time work," Harwood said.
The press was created to publish scholarly works that may not be attractive to larger university presses or commercial publishers. The ISU University Press currently catalogs about 76. The University Press Editorial Board reviews and selects the submitted books that will be published. There are currently five ISU faculty members on the board.
"It was never set up to be a big money maker," Harwood said. "It was designed to do pilot editions of books."
Harwood made it a point not to grow it too large. The University Press will continue to operate after Harwood leaves, and is in the process of moving to the Office of Academic Affairs, from under the umbrella of University Relations. Its board will remain intact and will be instrumental in helping sharpen the press's academic focus.
"I will miss the press," Harwood said. "It was a lot fun doing it. Every time I thought of hanging it up along has come a book manuscript I wanted to do. I've done 'one more book' a lot of different times."
He is fondly remembered by co-workers.
"He is one of those people that has always exuded good will and was a tremendous spokesperson for the university," said Ron Hatzenbuehler, ISU history professor and member of the University Press Board, who has been at ISU since 1972 and has worked with Harwood when he was in both positions. "We on the board of the Press will miss Bill's leadership and thank him for his years of service. In his many roles at ISU he has always done what people asked him to do and has been responsive to their needs. He is knowledgeable, task-oriented and gets the job done. He has been a joy to work with."
"I know where a lot of bodies are buried," Harwood joked in a recent interview.
As long as Harwood has been at the University, he is bound to have a wealth of institutional knowledge official or otherwise.
He and his wife Evelyn, who goes by DeaDea and taught at Highland High School for 26 years, have four children, five grandchildren and three great-grandchildren.
---
Categories: