Sen. Crapo selected as Statesman of the Year by political science honor society
April 9, 2009
ISU Marketing and Communications
Sen. Mike Crapo has been selected as 2009 Statesman of the Year by the Pi Sigma Alpha, the political science honor society at Idaho State University, and he will be honored at a dinner on Saturday, April 18, at the ISU Stephens Performing Arts Center.
This honor is bestowed upon Idahoans for their distinguish contributions to the state and nation. Sen. Crapo is the 30th recipient of this prestigious honor, which has been awarded to some of Idaho's most distinguished citizens and leaders.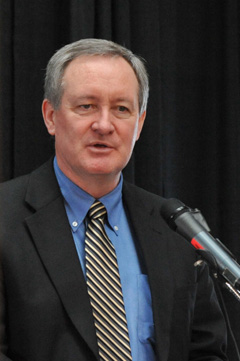 "Students were impressed by the broad array of experience that Crapo has amassed, first in the Idaho Legislature, and more recently in service at the federal level," said ISU political science Professor David Adler, Pi Sigma Alpha adviser. "To a person, students believed that Sen. Crapo was well positioned to advance the interests of Idaho in energy and education, and to participate at the center of today's most gripping issues, particularly as they pertained to the stresses and strains of the economy."
Past honorees include Gov. C.L. "Butch" Otter; U.S. Senators Jim McClure, Larry Craig and Steve Symms; and U.S. Representatives Mike Simpson, Richard Stallings and Ralph Harding. Other recipients have included federal judge Lynn B. Winmill, 9th Circuit Court of Appeals Judge Randy Smith, Tom Katsilometes, Perry Swisher, Patricia McDermott, Beverly Bistline and former Idaho Supreme Court Justice, Kathy Silak.
The public is invited to the dinner April 18 at the L.E. and Thelma E. Stephens Performing Arts Center. Reservations can be made for the dinner by calling the ISU Department of Political Science at ISU at 282-2211. Tickets cost $35. The evening will begin with a reception at 6 p.m. Dinner follows at 7 p.m. U.S. Sen. Jim Risch, judge Smith and Idaho State Senate Pro Tem Robert Geddes will speak on behalf of Sen. Crapo and his distinguished career.
---
Categories: