Prof. Anderson selected as Academic Fellow by Foundation for the Defense of Democracies
April 15, 2009
ISU Marketing and Communications
Idaho State University political science Professor Sean Anderson has been accepted as a 2009-2010 Academic Fellow with the Foundation for the Defense of Democracies in Washington, D.C.
As an FDD Fellow, he will participate in a unique educational program that focuses on the threat of terrorism to democracy. The FDD Academic Fellowship Program takes place in Israel from May 30 to June 10.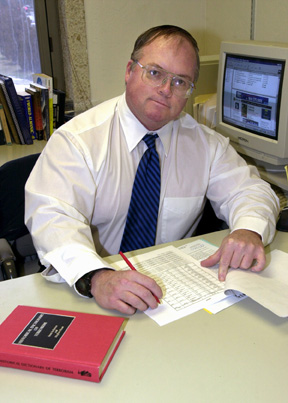 The program consists of an intensive series of lectures by academics, diplomats and military officials from India, Israel, Jordan, Turkey and the United States, as well as field trips to military, police and immigration facilities throughout Israel. The goal is to educate participants about terrorism and how democratic states combat that threat.
Anderson's research interests include domestic and international terrorism and extremist movements, political culture, the impact of religion on domestic and international politics and the Islamic Resurgence in the Middle East. He co-authored the book "The Historical Dictionary of Terrorism" with Professor Stephen Sloan, which has gone into a second edition and which shortly will be in its third edition.
FDD is a non-profit, non-partisan think tank based in Washington, D.C., that seeks to educate Americans about the terrorist threat to democracies worldwide. FDD produces independent analyses of global terrorist threats that explore the historical, cultural, philosophical and ideological factors that drive terrorism and threaten the individual freedoms guaranteed within democratic societies.
---
Categories: