Pianist Roger Williams, ISU alumnus, to perform Feb. 14 at Stephens Center
January 28, 2009
ISU Marketing and Communications
Roger Williams – according to Billboard magazine the greatest-selling pianist in history – will perform at 7:30 p.m. Feb. 14 at the L.E. and Thelma E. Stephens Performing Arts Center.
Ticket prices are $36 and $32, and can be purchased at the Stephens Center Box Office or by calling (208) 282-3595 from 10 a.m. to 4:30 p.m. weekdays. Tickets can also be purchased online a www.isu.edu/tickets. Williams' concert will be in the Joseph C. and Cheryl H. Jensen Grand Concert Hall.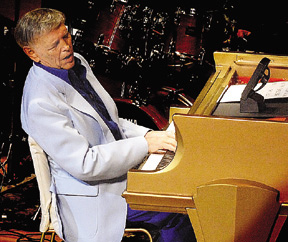 Among ISU's most famous alums, Williams has an astounding 18 Gold and Platinum albums to his credit. He has released more than 100 albums and played for nine U.S. presidents.
Williams burst onto the popular music scene in 1955 when he recorded the only piano instrumental to ever reach "number one" on the Billboard singles charts, "Autumn Leaves." His version became an American classic and still stands as the greatest-selling piano recording of all time. Williams followed with more million-selling records. "Born Free," "The Impossible Dream," "Til," "Almost Paradise," "Maria," "Lara's Theme from Dr. Zhivago" and the theme from "Somewhere in Time" are only some of the many hits he has made during his long career.
Williams attended ISU as Louis Weertz, and graduated from ISU with a Bachelor of Arts degree in general music. He also completed the V-12 College Navy Training program, a one-year officer training school. He later earned degrees from Drake University and the Juilliard School of Music. He was honored as an ISU Distinguished Alumnus in 1976.
Williams, born Jan. 1, 1925, in Omaha, Neb., began playing the piano at age 3. He has performed major venues worldwide, including Carnegie Hall, the Hollywood Bowl and the White House. The latter has earned him the title of "pianist to the Presidents." He has been a guest soloist with major symphonies around the globe. Williams has a number of accolades to his credit. He is the first pianist to receive a star on the Hollywood Walk of Fame, and received the Steinway Lifetime Achievement Award.
For more information on Williams visit www.mrpianotoday.com.
---
Categories: