Noted entrepreneur Orsi to visit ISU College of Business
January 23, 2009
ISU Marketing and Communications
Robert G. Orsi, chief executive officer of Borg Holdings, Inc., owners and operators of Sunrise Preschools, Tots Unlimited Preschools and Child Care Catering of Phoenix, Ariz., will be on the Idaho State University campus Feb. 2–4 as a special guest lecturer for the College of Business Executive-In-Residence program. His company operates 29 schools, employs 750 and serves 5,000 children daily.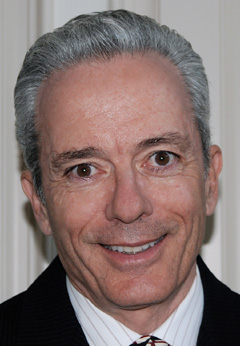 During his ISU visit, Orsi will share experiences from his 36-year career in education and entrepreneurship. His schedule calls for appearances at College of Business classes in operations and production management, policy and management, managerial and cost accounting, entrepreneurship and entrepreneurial finance.
He earned his B.S. in business administration from Bucknell University and his M.S. in educational psychology from the University of Arizona.
Orsi began his career in public education as an elementary teacher in the Philadelphia, Pa. public schools, later moving to Rosemead, Calif. to serve as a school psychologist and advancing through positions of director of the Follow Through program; director of basic instruction and director of pupil personnel services, all with the Garvey school district. He was the youngest "cabinet level" school administrator in Los Angeles County.
He founded Bright Beginnings Preschools in 1982 in Covina, Calif., and built the enterprise to 13 preschools in a three-county area, becoming one of the thirty largest for-profit schools in the nation. Concurrently, he published 46 articles on parenting for magazines and newspapers and appeared often on television as an expert on parenting and the education of young children. He also produced 24 episodes of "Families Today", a community-access television program available on cable systems throughout Southern California.
Orsi received an Ernst & Young "Entrepreneur of the Year" award in the Inland Empire of Southern California in 1994 and was a finalist for the U.S. Small Business Administration 1997 Small Business Person of the Year. He has been a member of Young Presidents Organization and the graduate group, the World President Organization for twenty years.
In 1998, Bright Beginnings merged with Mulberry Child Care Centers, Inc. of Boston, Mass. Orsi took cash and stock and joined the Mulberry management team. From 1998 to March 2001, he was a vice president with Mulberry, establishing an infrastructure and creating policies and standards for development.<> In 2001, Orsi joined another Young President member and they founded Borg Holdings and acquired Sunrise Preschools.
In the last eight years, Borg has built eight schools, performed two acquisitions, doubled top line revenues and quadrupled the bottom line. Orsi's current focus is on operational strategy and property development for the rapidly-growing company which has three to four project development projects in progress at all times.
"We are looking forward to welcoming Mr. Orsi to ISU," said Ken Smith, Ph.D., dean of the College of Business. "His is an American success story of entrepreneurship at its finest."
---
Categories: