'Ms. Mentor' to keynote ISU Women's History Month on April 3
March 20, 2009
ISU Marketing and Communications
The Idaho State University Women's History Month Committee is pleased to announce the Women's History Month keynote speaker, Emily Toth will deliver the lecture "Strong Women and How They Did It" at 7 p.m. April 3 in the Pond Student Union Salmon River Suite.
The speech, sponsored by the Idaho Humanities Council and the ISU Cultural Affairs Committee is free and open to the public.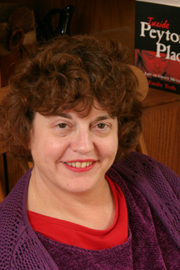 Toth writes a column under the penname, Ms. Mentor, in "The Chronicle of Higher Education."
Toth is a professor of English and Women's Studies at Louisiana State University. She is the author of several books on Kate Chopin, Women's Studies, and Academia.
Her speech coincides with the release of her new book, "Ms. Mentor's New and Ever More Impeccable Advice for Women and Men in Academia." The book will be available for purchase at the event where she will be signing them after her speech.
Toth's monthly column "Ask Ms. Mentor," started in August, 1998 and can be viewed on the web: http://chronicle.com/jobs/news/archives/columns/ms._mentor/.
In addition to the keynote speech, Toth will also present on the topic of writer Kate Chopin on April 2. The lecture, entitled, "Kate Chopin and Women's Secrets," will be held at 7 p.m. in the Conference Suite of the Rendezvous Complex. This lecture is free and open to the public.
Women's History Month has been an annual event in the ISU and Pocatello communities since 1986, providing an opportunity to celebrate the lives of women throughout history. A full calendar of events can be viewed on the Center's website www.isu.edu/andersoncenter
###
If you'd like more information about The Art of Gender Conference, Women's History Month or the Anderson Center, or to schedule an interview with Anderson Center staff or Women's History Month Executive Committee members, please contact Heidi Harold at 282-2805 or gndrctr@isu.edu.
---
Categories: