ISU physical therapy student Givler returns from South African externship
June 25, 2009
ISU Marketing and Communications
After serving a physical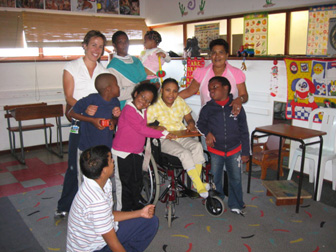 therapy externship at a hospital in Cape Town, South Africa, recent Idaho State University physical therapy graduate Kim Givler is readjusting to life back in the United States.
"I am adjusting to a different season, different time zone and different stars," Givler said, a few days after returning to Pocatello. "The days are really short there now and the days are very long here. It's a big adjustment."
Givler, who just earned her Doctorate of Physical Therapy degree from ISU, is the latest student who has taken advantage of an agreement between the Kasiska College of Health Professions and University of Cape Town that promotes student and faculty exchanges between the two universities located a world apart.
The 29-year-old native of Helena, Mont., completed the last of her five clinical rotations required for her physical therapy doctorate at Groote Schuur Hospital, that is a teaching hospital for the University of Cape Town.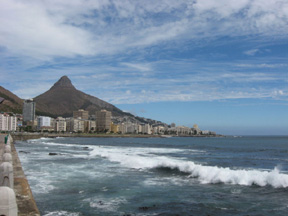 "Without Idaho State University's agreement with the University of Cape Town I would not have been able to complete the externship," Givler said. "It was just a phenomenal learning experience. What they really excel in South Africa, because of their limited resources, is being innovative with treatments. That's one of the big lessons I returned home with."
She spent three months in South Africa, completing a two-month externship, and about one month of her own time traveling. The first half of her externship she was in a spinal cord unit. The second half of it she was in a neurological unit, that treated diseases and injury of the nervous system, such as strokes, traumatic brain injury and degenerative conditions. In the United States, Givler said, spinal and neurological maladies are generally treated in one unit, showing one difference in completing an externship in a foreign country.
"In some ways working in the Cape Town hospital was very similar to other big-city hospitals, and in some ways it was very different," Givler said. "The main differences are that they operate with very limited resources and the patient populations are different."
She was working in a public hospital that accepted patients that might not be able to afford private health care. Some of the patients she treated didn't speak English. Afrikaners, for example, spoke Afrikaans, one of the major languages of South Africa, which is an Indo-European language and an offshoot of Flemish, remnant language from the Dutch who settled in South Africa in the 17th century.
There are three major, general ethnic groups identified by residents in South Africa, including blacks, whites and colored. Blacks are black Africans, whites are of Caucasian, European decent and the colored community consists of persons of Asian decent and of mixed race that are one distinct community.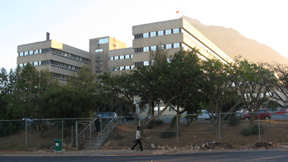 "There are definitively separate communities and cultures that have their own languages and accents that live together in South Africa," Givler said. "It got so that on the phone, if the caller spoke English, I would recognize which group they were from."
The first three weeks of her visit she lived in a hostel and then she rented a room from a doctor who she worked with. Outside of work, she found plenty to keep her occupied with and interested in.
"Cape Town is really an interesting city," she said. "It is big and cosmopolitan, much more so than any city in Idaho. In some areas there are big malls and big movie theatres we don't have here, but some of those areas would be surrounded by townships with very, very impoverished communities."
"The juxtaposition between well-developed areas and the shanty towns is stark, and to me, astounding. They don't hide poverty there like we do in the U.S."
After completing her externship Givler stayed longer in the country and did some touring, from South Africa's "gorgeous coast" with "blue water, white sands and jutting green cliffs" to the interior of the country where the rock climbing and wildlife viewing was, in her word, "phenomenal." Kim is the third student from the ISU Doctor of Physical Therapy program who has completed the externship at the University of Cape Town. Two more students are scheduled for this externship in the spring of 2010.
Idaho State University's relationship with the University of Cape Town grew out of visit by University of Cape Town's Deputy Dean of Undergraduate Education Gonda Perez to the ISU Kasiska College of Health Professions in the summer of 2005. Kasiska College of Health Professions former Dean Linda Hatzenbuehler, now the interim associate vice president for health education at ISU, then visited the University of Cape Town in October 2005.
"We have a lot of overlap programs and we worked out exchange opportunities for our students and faculty," Hatzenbuehler said.
Every year since 2005 ISU has participated in some type of faculty or exchange program with the University of Cape Town, one more example of ISU's international agreements that offer opportunities for its students, faculty and staff.
---
Categories: