ISU Minshall lecture series features renowned freshwater ecologist Covich
April 23, 2009
ISU Marketing and Communications
Noted freshwater ecologist Alan Covich will deliver the public presentation "The Importance of Freshwater Ecosystem Services in a World of Changing Climates" at 4 p.m. Thursday, April 30.
Covich's lecture will be in Room 10 of the Idaho State University Lecture Center, Building 67, part of the Gale Life Science Building Complex. It is the second "G.W. Minshall Lecture in Ecology," an annual lecture series sponsored by the ISU Department of Biological Sciences.
Covich also will give a professional research seminar titled "Long-term Cumulative Effects of Pulsed Disturbances and Subsides to Tropical Headwater Streams: A Perspective from the Luquillo Mountains of Puerto Rico" at 10 a.m. May 1 in Room 209 of the ISU Nursing Building.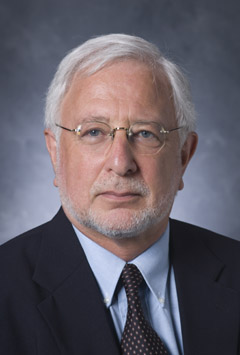 He is a professor of ecology and former director of the Institute of Ecology in the Odum School of Ecology at the University of Georgia. Covich's research interests focus on the effects of extreme events such as droughts, floods andhurricanes on freshwater ecosystem services and food webs.
"Dr. Covich is a world leader in the field of freshwater ecology," said Colden Baxter, ISU assistant professor of biological sciences and director of the ISU Stream Ecology Center. "He has done research all over the world and the work he has done is just as applicable to Portneuf watershed and southern Idaho as it was where he completed it, most recently in Puerto Rico. This presentation should be of interest to a wide range of ISU students and faculty, resource managers and members of the general public."
The ISU Department of Biological Sciences established the G.W. Minshall Lecture Series in Ecology to provide lasting recognition of the scientific contributions of Dr. Wayne Minshall, an ISU professor emeritus who has been an international leader in the study of streams and rivers.
Baxter noted that like Minshall, Covich is an exceptional scientist and has an outstanding record of public service within and outside of his field. Covich participated on the National Research Council review of freshwater ecosystem services and isdeveloping a trans-disciplinary graduate program in ecosystem service valuation focused on southeastern drainage basins.
Covich was elected president of the Ecological Society of America (ESA) in 2006-2007 and currently serves on the Board of Directors of the International Association of Ecology (INTECOL). He presented a review of global change and climate effects on freshwater ecosystems at the 2007 Ecosummit in Beijing. He is a North American representative to the International Association of Limnology and has served as president of the American Institute of Biological Sciences and the North American Benthological Society.
Covich is co-editing the third edition of The Ecology and Classification of North American Freshwater Invertebrates and has published widely on freshwater ecology. Covich was elected an American Association for the Advancement of Science Fellow in 1999 and was awarded the Icko Iben Award for Excellence in Interdisciplinary Research by the American Water Resources Association in 1997. He serves as reviewer of climate change impacts on water quality for the US Environmental Protection Agency, Resources for the Future, and the National Science Foundation. He received his Ph.D. in ecology at Yale University.
For more information on Covich's presentations, call (208) 282-3765.
---
Categories: