ISU Jazz Bands perform April 3 at Jensen Grand Concert Hall
March 24, 2009
ISU Marketing and Communications
ISU Music student and saxophonist Julian Sutherland in rehearsal for the upcoming ISU Jazz Bands concert.The Idaho State University Jazz Band I and Jazz Band II will present an exciting mix of cool and hot jazz in their final performance of the year on Friday, April 3, at 7:30 p.m. in the Joseph C. and Cheryl H. Jensen Grand Concert Hall in the L.E. and Thelma E. Stephens Performing Arts Center.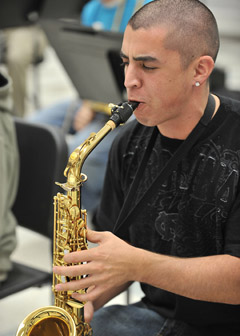 Jazz I director is Dr. Patrick Brooks, ISU director of bands. Monté Grise, associate director of bands, directs Jazz II.
Jazz I will perform seven selections, including the Count Basie standard "Corner Pocket"; a beautiful ballad arrangement of Billy Strayhorn's "A Flower Is A Lovesome Thing," featuring ISU music student Julian Sutherland; and the contemporary hip-hop-shuffle-funk flavored "Feather Report." New selections to be performed will include "Cherry Juice," by Thad Jones; the samba-swing trumpet and tenor sax duet "Mi Burrito," by Ray Brown; and the bluesy "Sweet Pea," composed by Bill Holman.
Jazz II, directed by Monte Grise, will perform a selection of jazz standards to include "Autumn Leaves" and Dizzy Gillespie's "Groovin' High."
Admission to this concert is free to all ISU students with a valid Bengal card. Adult general public admission is $6, faculty and staff admission is $4 and pre-college student admission is $2.
For more information call the ISU music department at 282-3636.
---
Categories: