ISU Farm Business Management Program given technical education special award
June 30, 2009
ISU Marketing and Communications
The Idaho State University Farm Business Management Program was recognized during the 52nd Annual Professional Technical Educators' (PTE) Summer Conference with the Idaho PTE Special Program Award.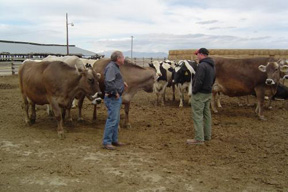 Farm Business Management (FBM), taught by Ralph Jones, is offered through ISU Workforce Training. Over the past five years, enrollment in the program has increased from 31 students to 140 students. While the national standard is 40 enrolled farms per instructor, the ISU program has 92 farms enrolled with one instructor.
This program is one of the largest single-instructor programs in Farm Business Management in the western states. It has been a featured program three times over the years by the National Association of Farm and Ranch Management Educators Association.
The FBM program is designed totally to accommodate the needs of the participant. Classes are offered on the ISU campus in Pocatello and at off-campus locations in American Falls, Arimo, Rigby, St. Anthony and Terreton with various training times available. The program offers multiple curriculum levels and sequential skill building over a four year format. Classes offered include farm business records, farm business analysis, farm business finance and farm business organization. Each year, the program offers a special Saturday training seminar to students and the agricultural community in general.
The FBM program offered through ISU is a certified vendor for providing mandatory training to those in agriculture who have a loan guarantee from the Farm Service Agency. It is also the largest recipient in the state of funds from the Alternative Careers in Farming grant administered through the University of Idaho. A very successful arrangement between ISU instructor Ralph Jones, and Brad Jahn of the University of Idaho has allowed participants to receive funding for the program. This past year, 34 program participants received funding, totaling more than $15,000. Additional scholarships are also available.
Coordination with private industry helps to make this program a success. Throughout the year, outside presenters provide information on accounting and tax instruction; life, property, casualty, health and crop insurance; estate planning; and a commodity broker facilitates teaching of futures, hedging and options. Jones regularly speaks at industry conferences, trade shows, seminars and high school career days. Over the years, private industry members of the advisory board have included members from banking, insurance, education, machinery dealerships and the Farm Bureau Federation.
For more information on the Farm Business Management program at ISU please contact Workforce Training at (208) 282-3372.
---
Categories: