ISU English Professor Attebery honored with Pilgrim Award for science fiction writers
April 9, 2009
ISU Marketing and Communications
The Science Fiction Research Association has announced that the winner of its 2009 Pilgrim Award is Brian Attebery, professor of English at Idaho State University.
The Pilgrim Award is a lifetime award, given annually to an individual whose body of work contributes significantly to the study of science fiction and fantasy. Previous winners include writer-critics such as Ursula K. Le Guin, Brian Aldiss and Samuel R. Delany as well as scholars from around the world, including film critic Vivian Sobchack and postmodern theorist Fredric Jameson.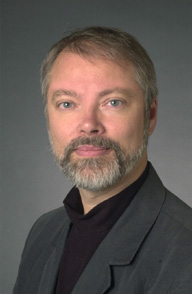 Attebery has written three books and numerous articles on both science fiction and fantasy. His most recent book is "Decoding Gender in Science Fiction," published by Routledge in 2002. He is the co-editor, with Le Guin, of the influential anthology "The Norton Book of Science Fiction." He also edits a scholarly journal, the Journal of the Fantastic in the Arts.
He was named ISU's Distinguished Researcher for 1997, and he has previous been honored for his work by the Mythopoeic Society, the International Association for the Fantastic in the Arts, and the Idaho Humanities Council.
The Pilgrim Award is the oldest and most prestigious award in the field of science fiction scholarship. It was instituted in 1970 and named for J.O. Bailey's pioneering study of science fiction called "Pilgrims through Space and Time." Bailey was also the first winner of the award. The official presentation of Professor Attebery's Pilgrim Award will take place in June at the annual meeting of the SFRA in Atlanta, Ga.
---
Categories: