ISU doctoral student Blazevic heads to China to participate in energy summit
June 16, 2009
ISU Marketing and Communications
Idaho State University's Jason Blazevic is the only student who has been invited to participate in an intensive multinational "East Asia Security Symposium" workshop scheduled June 22-26 in Beijing, China.
The workshop, on the theme "Energy Security as a Tenet of National Security," is hosted by China Foreign Affairs University's Center for Strategic and Conflict Management in Beijing and is sponsored by University of New Haven. It features a variety of military, foreign affairs and academic experts from throughout China, and 20 similar foreign experts from throughout the world visiting the country.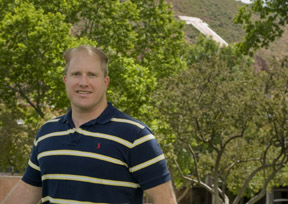 Blazevic, an ISU political science doctoral student, said he is thrilled to be attending the conference.
"I had to apply to the conference, which limits acceptance to 20 non-Chinese attendees based on their research as well as articles and books they've published," Blazevic said. "The conference topics are China specific and I think they liked the fact that as a student I've published three times, all on energy security. The conference really isn't for students – it is more for professionals in the field, but they're expanding it to include students."
The three papers he has published are "Oil, the United States and China" in the Journal of Social Science produced at Japan International Christian University in Tokyo; "Japan and the East China Sea: Realism, Policy, and the Security Dilemma" published in the Stanford Journal of East Asia Affairs; and "Oil, Africa and China: China's African Strategy" in Papers, Essays and Reviews published by Yonsei University in Seoul, South Korea.
The ISU student will be interacting with Chinese military officials at the Rear Admiral and Major General rank, as well as with official Chinese ambassadors and high-level Chinese academics. The non-Chinese attending include representatives from the U.S. Naval War College, a Major General from the Swedish Army and a representative from a Danish nuclear institute.
The military, government, political and academic representatives from China will make presentations during the two sessions per day the first four days of the conference, then on the last day attendees from outside of China will present on topics involving their own research.
"The conference is designed mainly to bring experts from around the world and instruct them on what is important to China. Basically the conference will expand our understanding of topics involving energy security which are relevant to China," Blazevic said. "I feel privileged that I am attending as a student."
A native of Arizona, the 31-year-old earned his bachelor's degree in history from the University of Northern Arizona where he also lettered in football. He then earned a master's degree in political science from Idaho State University and a master's degree in history, with an emphasis on American diplomatic history and a minor in modern East Asia history, at Washington State University. Blazevic returned to Idaho State University to work on his Doctor of Arts Degree in political science.
"I enjoyed the time I spent here before and came back. I enjoy the program I am in because they give you a little bit of leeway, enough so you can do what you want to do if you're willing to go out and do it," Blazevic said. "And I like to engage in research on issues such as energy security in East Asia."
---
Categories: