ISU Choirs to perform final spring concert May 1 at Stephens Center
April 23, 2009
ISU Marketing and Communications
The Idaho State University Choirs will present a spring concert, Friday, May 1, at 7:30 p.m. in the Cheryl H. and Joseph C. Jensen Grand Concert Hall in the L.E. and Thelma E. Stephens Performing Arts Center.
Scott Anderson, ISU director of choral activities, announced that the May 1 concert will be the final semester performance of the ISU Department of Music choral ensembles. The Idaho Falls High School A Cappella Choir, under the direction of Zola Jensen, will be featured as a special guest of the ISU Choirs. Professor Kathleen Lane will conduct the ISU Women's Choir, while Anderson will lead the ISU Concert and Chamber Choirs.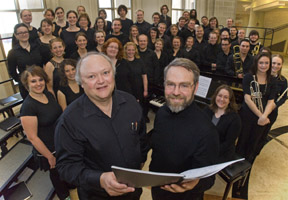 Anderson described the variety of musical selections to be offered as "representative of most choral styles from the Renaissance to the 21st Century."
The ISU Concert Choir also will premier a setting of "Te Deum" by Randy Earles, chair of the ISU Department of Music. Earles' Latin choral work is scored for piano, two trumpets, trombone, flute, clarinet, choir and soloists, and will feature the talents of many ISU music majors.
"The opportunity to present the initial performance of any choral work is unique; the fact that the piece was written by one of our own faculty makes the event significant for all of us," Anderson said.
Anderson said that the ISU Concert Choir recently performed Carl Orff's "Carmina Burana" with the Idaho State-Civic Symphony and Camerata Singers, all under the direction of Dr. Chung Park.
The 24-voice ISU Chamber Choir, also conducted by Anderson, will perform "Sol-fa de Pedro," by Mexican Baroque composer Manuel Sumaya; "Waldesnacht," by Johannes Brahms; Gioacchino Rossin's vocal quartet "La Passeggiata," featuring pianist Abbi Clark; and Eric Whitacre's setting of Charles Anthony Silvestri's libretto bréve "Leonardo Dreams of His Flying Machine." Senior vocal major Von Bringhurst will conduct his own choral composition, "Luke Havergal."
"The Eric Whitacre piece is very unique in that it successfully represents the dialogue between the conscious and unconscious self during a dream," Anderson said. "Leonardo da Vinci's vision of a flying machine, the excitement of the possibility offlight, and the realization of a man flying in air are dramatically illustrated in a choral context; really spectacular!"
Tickets are available online at www.isu.edu/tickets, by calling the Stephens Center Box Office at (208) 282-3595 or the Vickers Western Stores in Pocatello and Idaho Falls. Standard ticket prices are: adults, $6; precollege students, $2; ISU faculty and staff, $4; and ISU students free with valid Bengal Card.
Children under the age of 6 are not admitted to ISU Department of Music concerts.
---
Categories: