ISU biological sciences chair Bowyer gives Capstone Presentation at mammalogists conference
June 24, 2009
ISU Marketing and Communications
Terry Bowyer, chair of the Idaho State University Department of Biological Sciences, has been selected to give the Capstone Presentation at the 89th meeting of the American Society Mammalogists, which runs through June 28 at the University of Alaska Fairbanks.
Bowyer, who is a recognized authority on the behavior and ecology of ungulates such as moose, elk, caribou, mule deer, and white-tailed deer, has also worked extensively with their predators, including gray wolves, coyotes, and mountain lions. He is the recipient of numerous awards and honors for his science.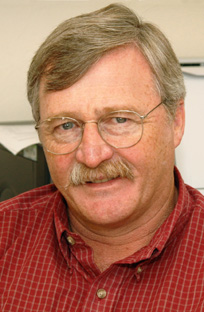 He is an elected Fellow of the American Association for the Advance of Science, The Wildlife Society, The Arctic Institute of North America, and is a Professional Member of the Boone & Crockett Club. He has received the prestigious C. Hart Merriman Award from the American Society of Mammalogists for his research, the Arthur S. Einarsen Award from The Northwest Section of The Wildlife Society for his outstanding service to the wildlife profession and wildlife resources. Bowyer also has received the Distinguished Moose Biologist award, as well as three Outstanding Publication Awards from The Wildlife Society. He has over 160 scientific publications.
Bowyer's talk is entitled "Large Terrestrial Mammals: Population Dynamics, Politics, and Perils." He will speak on misconceptions concerning the ecology of large mammals that hold potential for mismanaging these unique and economically important species. He will also discuss the "North American Model for Wildlife Conservation." In addition, he will address the importance of management decisions being informed by science, and the need to temper politics with biological information in the decision-making process. Finally, Bowyer will highlight the decline in number of hunters across North America, and the perils this holds for state wildlife agencies in managing game populations without adequate funds obtained from license fees.
Bowyer noted that this, "was a great tribute, and a once-in-a-life-time distinction, for which I am deeply honored."
Bowyer was responsible for hosting this same meeting in Alaska 20 years ago.
"This presentation is especially satisfying because I get to return to the University of Alaska Fairbanks, where I spent 18 years of my career, and where the Institute of Arctic Biology nurtured my development as a scientist," Bowyer said. "I still have many friends and colleagues in Alaska and I can't wait to see them again. I don't often look forward to giving public presentation, but this should be fun."
---
Categories: