Idaho State University alumnus to direct efforts to save endangered indigo snake
July 29, 2009
ISU Marketing and Communications
Idaho State University alumnus Chris Jenkins, who earned a doctorate at ISU in 2007 studying rattlesnake ecology, will move from Idaho to Georgia to continue as director of Project Orianne, a multi-million-dollar effort to save the Southeast United States' indigo snake, North America's largest native snake.
Jenkins developed Project Orianne and has been working from Pocatello to implement the program.
"This is a dream job for me," Jenkins said. "I love work related to snake ecology and conservation, and managing and leading an organization that practices applied conservation. I can have a real impact on saving indigo snakes and other species."
Jenkins, 35, came to Idaho State University to earn his doctorate after earning bachelor's and master's degrees at the University of Massachusetts. He chose ISU so he could study under ISU ecology professor Charles Peterson, a well-respected reptile and amphibian expert and researcher.
"In general people are fascinated by snakes," Jenkins said. "Almost no one is indifferent to snakes because they bring up something in everybody. But snakes are also one of the most misunderstood and persecuted groups of wildlife even though they are valuable in a number of ways. They're worth protecting and it is worth changing people's attitudes towards them."
Jenkins's ISU doctoral dissertation work was carried out in the desert surrounding the Idaho National Laboratory where he focused on the effects of wildfire and changing vegetation cover on rattlesnake populations. His dissertation work led to a job with Wildlife Conservation Society (one of the oldest and largest conservation organizations) where one of his primary projects was developing a Conservation Management Plan for the INL,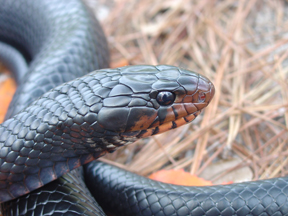 "It was while I was working the Wildlife Conservation Society job at the INL that I was asked if I wanted to leave and become director of a new conservation society that focuses on reptile conservation," Jenkins said.
WCS partners with Panthera, an organization devoted to the conservation of great cats, such as cougars, lions and snow leopards. The major private donor to Panthera created a sister organization, Project Orianne, to carry out a similar conservation mission for the indigo snake.
"It is interesting how Project Orianne came about," Jenkins said. "A donor to one of the largest conservation groups in the world was on a trip with his daughter. She had the opportunity to hold an indigo snake and she asked him if he could do for the indigo snakes what he was doing for big cats. Being a good father, he decided to honor his daughter's request and devote substantial resources to the endeavor."
Indigo snakes, which can grow to lengths of more than 8 feet, are a top predator in their range, in Georgia, Florida and Alabama. They specialize on eating other snakes, including rattlesnakes. Their numbers have declined for a wide variety of reasons including habitat loss and habitat fragmentation. An individual snake may need as much as 1,400 acres as a home range. Indigo snakes depend on the burrows of gopher tortoises, another species in decline. In the past, the snakes have also been decimated by collection from hobbyists and from being killed incidentally during rattlesnake roundups.
"Our initial work is focused on saving this one endangered species," Jenkins said. "We have a full staff and a budget for buying land, creating a captive breeding facility, completing research projects and habitat improvement projects. We also have relationships with the University of Georgia and the University of Florida to do research on applied conservation projects. We'll do everything we can to prevent the further decline and possible extinction of this species."
Jenkins said he was grateful for the education he received from Idaho State University, particularly his mentorship by Peterson.
"I owe a great deal to Chuck (Peterson) because not only was he great in teaching me the biology of snakes, but he opened a lot of doors for me and helped me meet people in my field," Jenkins said. "He was important and pivotal in helping me learn the skills I need to run this organization."
Peterson reciprocated Jenkins' compliments.
"The experiences and exposure he (Jenkins) got here made it possible for him to land this spot because Chris is an ambitious, hard-working guy," Peterson said. "This is a perfect position for him."
Project Orianne has another Idaho State University connection: Jenkins hired Javan Bauder, an ISU master's graduate and another of student of Peterson's, as a research ecologist for the project.
Jenkins will be moving to northeast Georgia on Aug. 4 with his wife, Amy, who earned a master's degree in fisheries biology from ISU, and their son Dillon, 3, and daughter Emma, 18 months.
For more information on Project Orianne visit http://projectorianne.org.
---
Categories: