Idaho State names Olson new Provost, Vice President for Academic Affairs
January 13, 2009
ISU Marketing and Communications
Idaho State University has selected Gary A. Olson, a noted scholar of rhetoric and cultural studies and the dean of the College of Arts and Sciences at Illinois State University, as the University's new provost and vice president for academic affairs.
Olson will begin his duties this spring. His appointment follows an extensive national search.
"Provost Olson has a breadth of experience in higher education management and a strong commitment to faculty scholarship and high quality teaching," said Idaho State President Arthur C. Vailas.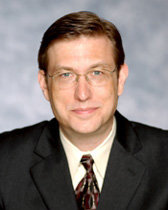 Olson became the dean at Illinois State University in 2004 and is a professor of English and a member of the Women's and Gender Studies faculty. As dean, he is the chief academic officer of the institution's largest college and oversees 16 academic schools and departments, two radio stations, a television station, a planetarium, four centers and an annual budget of $34 million.
"I am delighted and honored to join the Idaho State community," Olson said. "We have a talented and dedicated faculty and a president with substantial experience and a real vision for our future. I look forward to working with President Vailas and his team to help lead ISU to new levels of excellence."
Prior to joining Illinois State, Olson served for nearly two decades as an administrator and faculty member at the University of South Florida. During his last two years there, he worked as the chief academic officer of the institution's St. Petersburg campus, where he helped lead the campus to semi-autonomous status. He has also held faculty and administrative positions at the University of Alabama and the University of North Carolina at Wilmington.
Olson earned his B.A. in history and English literature at Kings College in Wilkes-Barre, Penn.; his M.A. in 19th century British literature at the University of Connecticut; and his Ph.D., in literary criticism, 19th century British literature, and rhetoric at Indiana University of Pennsylvania.
Idaho State's new provost is a prolific writer: he has published nearly two dozen books and 100 scholarly articles, book chapters and interviews. He is currently co-editing a book entitled "Higher Education in a Post-Disciplinary World," a collection of original articles by some of the nation's leading educators. Olson also pens a monthly column on academic administration for the "Chronicle of Higher Education," the nation's premier weekly publication covering events and issues in postsecondary education.
A celebrated teacher and scholar, Olson has won several awards for outstanding research and for teaching on both the graduate and undergraduate levels. He has served as a director or committee member of nearly 40 doctoral dissertations and 20 masters' theses, and many of his students have gone on to become national leaders in the discipline.
Each year the Association of Teachers of Advanced Composition presents a national award in his honor for the most outstanding scholarly book on rhetorical and cultural theory, "The Gary A. Olson Award."
"Members of the search committee are delighted that Dr. Olson has accepted the position," said Ronald Hatzenbuehler, Ph.D., ISU history professor and chair of the provost search committee. "He impressed faculty and staff with his knowledge of higher education issues that he brings to ISU from his administrative experiences in Florida and Illinois and as a regular contributor to the 'Chronicle of Higher Education.'"
---
Categories: