Ecology of Big Wood River among institute's remaining summer classes
July 29, 2009
ISU Marketing and Communications
The Idaho State University Sawtooth Science Institute's "Big Wood River Stream Ecology for Fly Fisherpeople" will take place July 30-31 from 9 a.m. to 5 p.m. each day.
The cost is $70 and credit is offered by Idaho State University for an additional $50.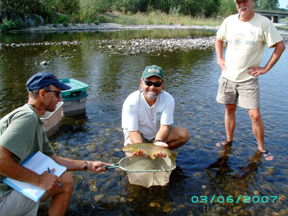 Other workshops remaining this summer include "Rocks and Ice," "GPS & GIS for the Classroom," "Snake River Birding at Massacre Rocks," "Teton River Birding" and "Henry's Fork Birding."
The workshops are two-day adventures in natural history. Idaho State University offers upper-division credit for all courses or the courses may be attended for no credit.
More information is posted at www.isu.edu/ssi or contact Chris Gertschen at (208) 788-9686 or gertchri@isu.edu.
---
Categories: