Delta Dental Community Outreach announces $500,000 gift to Idaho State University
February 27, 2009
ISU Marketing and Communications
Delta Dental Community Outreach, a philanthropic arm of Delta Dental of Idaho, has donated a $500,000 gift to Idaho State University to help fund an advanced dental residency clinic at ISU's new health sciences center in Meridian, 1311 E. Central Drive.
"On behalf of Idaho State University and the Idaho Advanced General Dentistry Program, I am honored to accept this generous gift from Delta Dental Community Outreach," said ISU President Arthur C. Vailas, Ph.D. "This donation will help further our commitment to providing an outstanding education and advanced training for our dental residents. Without the dental residency, many Treasure Valley patients would be unable to afford quality dental care."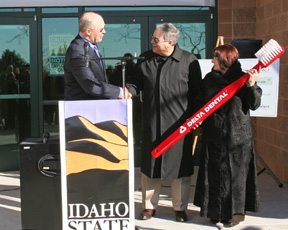 The gift was presented to Vailas by Delta Dental of Idaho Board Chairman Steven Bruce, D.M.D., during a news conference Feb. 27 at the clinic site, which is currently under construction. "We look forward to this partnership with Idaho State University and the Advanced General Dentistry Program," says Bruce. "We are confident this gift will help develop a highly qualified dental workforce for the future."
The ISU and Delta Dental of Idaho dental residency clinic is scheduled to open in January 2011.
The 5,200 square-foot facility will include 12 clinical treatment rooms, an X-ray and sterilization lab, faculty offices, a waiting room and reception area.
Each year, the residency admits four licensed dentists for a year of postdoctoral education and training in advanced dentistry techniques and procedures.
"As a non-profit organization, Delta Dental is strongly committed to improving the dental health of communities throughout Idaho. By supporting the ISU dental residency program, we not only help encourage the next generation of dentists to advance their skills, we also help expand access to dental care," said Tamara Brandstetter, president and chief executive officer of Delta Dental of Idaho.
"We are very excited about the donation and believe it demonstrates Delta Dental and Idaho State University's commitment to oral heath in Idaho," said Brian Crawford, D.D.S., chairman of ISU's Department of Dental Sciences and program director of the Idaho Advanced General Dentistry Program.
ISU's current facility—ISU Family Dentistry—located at 2033 E. Summersweet Drive in east Boise will close when the new clinic opens. Moving the dental clinic to ISU's new health sciences center will allow greater patient access and an opportunity for students, faculty and patients to interact with other ISU health-care providers and programs, according to Pamela Powell, D.M.D., clinic site director. "Delta Dental's gift is a testimony to their support of the dental needs of the Treasure Valley and beyond, and the acknowledgement of the relationship of dental health to overall health," Powell said.
In addition to the dental clinic, the ISU-Meridian health sciences center will house 25 graduate and undergraduate health-professions programs, a speech and hearing clinic, a counseling clinic, classrooms and Human Patient Simulation Laboratory, featuring high-tech mannequins that will enable students and faculty to practice real-life medical scenarios. The health sciences center will open in August 2009.

---
Categories: