Church Symposium set March 4-6 focuses on energy; INL's Blackman to keynote
February 26, 2009
ISU Marketing and Communications
Idaho State University's 38th annual Frank Church Symposium March 4-6 will be on the theme "Energy to Overcome" and will feature keynote speaker Harold Blackman, from the Idaho National Laboratory.
Blackman will deliver the keynote address "Energy and Water: Global and Local" at 7:30 p.m. March 4 in the Pond Student Union Wood River Room.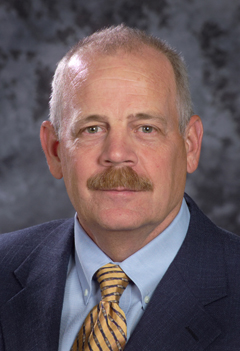 Blackman is director of laboratory integration at the INL where he assists in administering strategic planning, research activities and education. In addition, he is the director of the Center for Advanced Energy Studies (CAES), which was officially dedicated on Feb. 20 in Idaho Falls.
The International Affairs Council, an Idaho State University student organization funded by the Associated Students of ISU, is hosting the symposium. The symposium, which is free and open to the public, will be held in the Pond Student Union. It runs from 9 a.m. to 8:30 p.m. March 4, 9:15 a.m. to 4 p.m. March 5 and 9:15 a.m. to noon March 6.
This year's symposium includes lectures and panel discussions on various topics, including:
• "Energy in the 21st Century: Opportunities and Challenges," by Gawdat Bahgat, at 9:15 a.m. March 4. This is the Joseph Hearst Memorial Lecture. Bahgat is a professor of political science and director of the Center for Middle Eastern Studies at Indiana University of Pennsylvania and auther of numerous books including "Nuclear Proliferation in the Middle East" and "American Oil Diplomacy in the Persian Gulf and the Caspian Sea." Bahgat's main areas of expertise include energy security, proliferation of weapons of mass destruction, and terrorism
• "E=MC2," by William Tucker at 9:15 a.m. March 6 in the Pond Student Union Salmon River Suite. This is the H. Foster Lecture. Tucker is a veteran journalist who has written on energy and the environment, plus a variety of other subjects, for the last 25 years. His latest book is "Terrestrial Energy: How Nuclear Power Will Lead the Green Revolution and End America's Long Energy Odyssey."
• Panel discussions on "Global Future of Energy," International Energy Conflictc," "Oil Crisis: Do We Have One," Energy Dependence and Independence," "Food versus Energy" and "Energy Security" will be held during the three-day symposium.
Other symposium panelists include Brian Black, associate professor of history and environmental studies at Penn State Altoona; Denis Beller, research professor of nuclear engineering and systems engineer, radiation effects at Bigelow Aerospace, Inc., in Las Vegas; Robert Forbis, doctoral candidate and graduate instructor in political science at the University of Utah; Dale Getz, public affairs spokesman and human resource manager for the ExxonMobil Billings, Mont., refinery; A.J. Goulding, president of London Economics International; Melinda Hamilton, lead for bioenergy programs for the Center for Advanced Energy Studies; Brian Kane, State of Idaho Assistant Chief Deputy Attorney General; and Ken Miller, manager of the Snake River Alliance's Clean Energy Program.
For a complete schedule and more information on the symposium contact the ISU International Studies Office at 282-3043 or visit the International Affairs Council Web site.
---
Categories: