Carl McIntosh, Idaho State's seventh president, dies of natural causes
January 23, 2009
ISU Marketing and Communications
Carl W. McIntosh, Ph.D., seventh president of Idaho State University, died of natural causes Monday, Jan. 19, at his home in Bozeman, Mont. He was 94.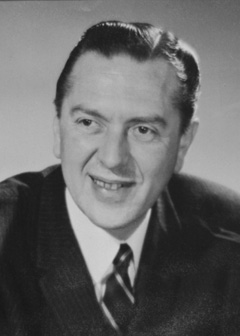 Pres. McIntosh served from 1946-1959, when ISU was transitioning from the University of Idaho-Southern Branch to become Idaho State College. As interim president, his advocacy and testimony before the 1947 Idaho Legislature was instrumental in establishing Idaho State as a four-year institution. He was appointed Dean of the College, while John R. Nichols was the first president. Nichols resigned the fall of 1946 and the State Board of Education named McIntosh president.
Under McIntosh's leadership, Idaho State developed a four-year curriculum and supported students in their effort to raise funds to build a million-dollar Student Union at no cost to the state.
"Mac," as most who knew him called him, began his career here as a speech and debate teacher. He served in the Army from 1943 and returned to campus in 1946.
McIntosh was born in Redlands, Calif., and received his bachelor's degree from the University of Redlands, and his master's and doctoral degrees from the University of Iowa. He was a champion college debater.
After leaving ISU, McIntosh was president of California State University-Long Beach from 1959 to 1969, and president of Montana State University from 1970 to 1977.
McIntosh is survived by his daughter, Diana McIntosh, and grandchildren, Christopher Kauppi and Erika Kauppi. He was preceded in death by his former wife, Mary Carroll McIntosh.
---
Categories: