Cady to take lead as ISU College of Pharmacy dean
June 11, 2009
ISU Marketing and Communications
Idaho State University College of Pharmacy Associate Dean, Paul Cady, Ph.D., has been appointed interim dean to fill the leadership role with the recent announcement of Dean Joseph Steiner, Pharm.D. Steiner has accepted the position of dean of the University of Wyoming College of Health Sciences in Laramie.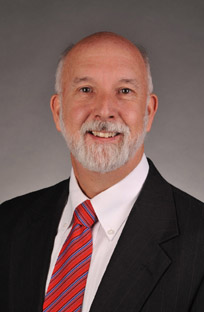 During his tenure with the College, Cady has served as a faculty member and held numerous administrative positions.
"Paul and I have worked closely together to move the College forward these past eight years and I cannot think of anyone better qualified to become the dean and provide a seamless transfer," Steiner said. "Paul is an excellent administrator, teacher, scholar and pharmacist; exactly what the College needs in these uncertain times."
The College continues to provide growth and leadership opportunities for students, while maintaining its excellent curriculum in preparing students for the profession, he added. Beginning in the fall 2009, the college will expand its already-present campus in the Treasure Valley with the addition of 10 new seats in the pharmacy program. Students from the western side of the state will now be able to study all four years of the Doctor of Pharmacy curriculum at the ISU-Meridian Health Science Center.
"With the leadership of Joseph Steiner, the College has continued it's legacy of being at the forefront in providing pharmacy education in the state and on a national level," Cady said. " My colleagues, our fine students and I are prepared to continue our expansion and meet the needs of providing top health care services for our state today, and in the future. We will continue to be Idaho's College of Pharmacy."
Pharmacy Professor Dr. Chris Daniels, who also serves as the current director of the ISU Biomedical Research Institute, has been appointed to serve as Special Assistant to the Provost for Health Research.
Steiner and his wife, Susan H. Steiner, Ph.D., RNC, FNP, an associate professor of nursing with the Kasiska College of Health Professions, will begin employment with UW in August. Sue has accepted the position of associate dean for clinical and community affairs with the UW School of Nursing.
---
Categories: