Banquet honoring ISU College of Education alumna Farmer set May 8 at Stephens Center
May 7, 2009
ISU Marketing and Communications
A banquet to honor Patricia Farmer, Idaho State University College of Education 2009 Professional Achievement Award winner, will be held at 6 p.m. Friday, May 8, at the L.E. and Thelma E. Stephens Performing Arts Center.
Farmer is being honored by the ISU College of Education Kappa Delta Pi – Omega Mu Chapter. She also was one of nine 2009 ISU Professional Achievement Award honorees by the ISU Alumni Association this spring.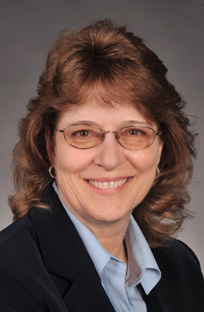 She has shown a life-long pursuit of education, from ISU, earning her Bachelor of Arts degree in secondary education in 1974. In subsequent years she earned a Master of Education degree in special education and psychological services in 1990, an Educational Specialist Degree in special education in 1994 and an Educational Specialist Degree in school psychology in 2002, all from Idaho State University.
Farmer has co-authored three books entitled "Trisomy 13: A Guidebook for Families," "Trisomy 18: A Guidebook for Families," and "Wolf Hershorn Syndrome: A Guidebook for Families."
At the time she lost her own son to Trisomy 13, there was very little known about this disorder. She was instrumental in establishing the "Support Organization for Children with Trisomy 18, 13 and Related Disorders" (SOFT). SOFT is now a worldwide organization dedicated for families and medical professionals to help disseminate information about children with trisomy and other genetic disorders. Farmer continues her involvement with this organization today.
Through the years, Farmer also has been active in the Pacific Northwest Regional Genetics Group, Idaho Special Olympics, National Organization for Rare Disorders, Idaho Parents Unlimited and the Council for Exceptional Children. In 1983, she received the Governor's Award for Outstanding Volunteer Service for the Disabled in Idaho and in 2001, she was the recipient of the Kari Deann Holiday SOFT Friend award and was named Distinguished Graduate of the College of Education.
For information about the banquet, contact Cathy McPherson at Mcphcath@isu.edu or 282-2447.
---
Categories: