2009 Undergraduate Art Exhibition runs through May 1
April 3, 2009
ISU Marketing and Communications
The 2009 ISU Annual Undergraduate Art Exhibition and Scholarship Competition at the John B. Davis Gallery will open from 6 to 8 p.m. Monday, April 6. An awards ceremony will be held at 7 p.m.
The works entered in the competition, sponsored by the ISU Department of Art and Pre-Architecture, will then be on display from April 7 to May 1.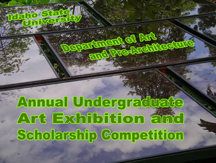 In addition, the juror for the exhibit, Heather Ferrell, executive director of the Salt Lake Art Center, will give a free public lecture at 11 a.m. Monday, April 6, in Room 401 of the Fine Arts Building.
For the past 11 years, Ferrell has contributed to the museum profession through a progression of curatorial and administrative positions in museums and contemporary art centers, with a special interest in cross-disciplinary partnerships and museums as relevant centers of community. Before her arrival in Salt Lake City, Ferrell served as the executive director of the Salina Art Center in Kansas for three years, and as the associate curator of art at the Boise Art Museum for six years. She is a master's of arts graduate of Case Western Reserve University, Cleveland, Ohio, in art history and museum studies, and earned her Bachelor of Fine Arts degree in photography and art history from Utah State University.
Last year 54 students entered 160 pieces for judging. Thirty-two students were accepted into the show and 67 pieces where in the exhibit. A total of $3,030 was used for awards and scholarships received by 18 students.
John B. Davis Gallery hours are 10 a.m. to 4 p.m. Monday through Friday.
The gallery is located on the lower level of the ISU Fine Arts Building www.isu.edu/art/galleries.shtml.
---
Categories: