2009-2010 Idaho State University Bengal Dancers announced
May 11, 2009
ISU Marketing and Communications
The 2009-2010 Idaho State University Bengal Dancers have been selected following competitive tryouts.
The Bengal Dancers are coached by Hilary Johnson and assisted by Lindsay Tucker. The team will report back at the end of July to attend camp in Milwaukee, Wis., with the Universal Dance Association (UDA).
The Bengal Dancers finished second in Division I Dance at the 2009 UDA Collegiate Championship held in Orlando, Fla. The Bengal Dancers have been ranked nationally in the top three since 2004.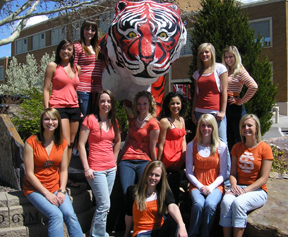 The 2009-10 Bengal Dancers pictured are, from left to right:
Back row: Chelsea Kaminska of Brigham, Utah, Brittney Owen of Pocatello, Sara Neibaur of American Falls and Savana Schiess of Pocatello;
Middle row: Katie Miller of Idaho Falls, Caitlyn Robbins of Pocatello, Kelbee Casper of Idaho Falls, Britney Giovanini of Idaho Falls, Megan McLean of American Falls, and Kim Hickenlooper of Burley; and
Bottom front row: Cassie Christensen (Idaho Falls)Not pictured:Brittney Udy (American Falls).
Brittney Udy from American Falls is not pictured.
---
Categories: