'What's Your Major Mojo' theme of ISU Majors, Minors and Graduate School Fair on Sept. 23
September 11, 2009
ISU Marketing and Communications
"What's Your Major Mojo" is the theme of the ninth annual Idaho State University College Majors, Minors, and Graduate School Fair from noon to 4 p.m. Sept. 23 in the Pond Student Union.
Participants can learn about the variety of undergraduate and graduate degree programs offered on the ISU campus.
The fair will be held in the lower level of the Pond Student Union, including in the Ballroom, Bengal Café and the Canoe Room. It is sponsored by ISU Career Center, Advising Center and Graduate School.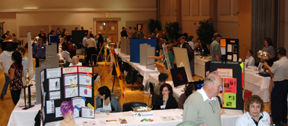 All ISU students, area high school seniors and community members are invited to attend. There will be free food and tie-dying available to participants.
The fair is designed to assist students in making informed decisions related to their college majors and future career. Information about admission requirements, prerequisites for specific programs, course content and job opportunities related to each degree will also be available.
ISU faculty from academic departments and the College of Technology will be on hand to meet with students and answer their questions. In addition, representatives from the Admissions Office and the Career Center will be available to provide general information.
For more information please contact Troy Kase at (208) 282-2380 or kasetroy@isu.edu.
---
Categories: