Thompson retires from College of Technology after 32 years of service
October 28, 2009
ISU Marketing and Communications
After 32 years of dedicated service to Idaho State University College of Technology, Deb Thompson is retiring. Since 1977, she has served in several positions including; counselor, director of student services, interim associate dean, associate dean, and interim dean.
The College of Technology is hosting a retirement reception to recognize Deb for her years of service on Friday, Oct. 30, from 3 to 5 p.m. in the Roy F. Christensen Building, Culinary Arts Dining Room, 777 Memorial Drive, Pocatello, Idaho. If you wish to attend please call 282-3227 to RSVP.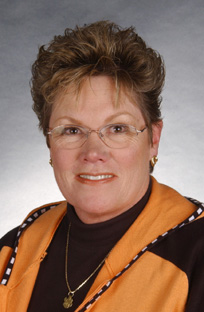 Thompson got her start at ISU as a student. Originally from Twin Falls, Deb made the choice to follow her brother who was playing football for Idaho State University. As a student, Deb was a member of the women's swim team for her first two years of school. She was also an active and involved member of Gamma Phi Beta and served in many offices for the sorority. While attending graduate school Deb was an advisor to the sorority. She received a Bachelors degree in Psychology in 1974 and a Masters of Counseling degree in 1976 from ISU. Following her college graduation, Deb accepted a position at Vocational Rehabilitation where she was employed until her return to ISU
Thompson made several visits to the College of Technology (VoTech at the time) to check on her clients while working for Vocational Rehab. She observed the passion faculty had for teaching and the desire of students to learn. It became her goal to obtain a job at the ISU College of Technology.
It wasn't long after starting that Deb took an active role in helping College of Technology students succeed. When Deb started in 1977 as a counselor, it was not common for females to be in nontraditional fields such as automotive, welding, etc. Deb started a support group for females. About one year after being on the job, she took on the coordination of student clubs and served as an advisor to the student government officers.
Business Professionals of America, VICA and DEX clubs were the first clubs she coordinated. With a membership of 100 students year after year, she eventually just oversaw the VICA clubs. Deb recalls that during her tenure the College had a state VICA officer every year and a national officer one year.
"Working with the clubs and student government was one of the highlights of my career," comments Thompson, "My goal was to get the College of Technology as actively involved as possible with University activities. For many years, students from the College of Technology reined as Homecoming King and Queen."
In 1992 Deb became the Director of Student Services at the College and in December 1994 assumed the acting associate dean's position. She was officially named Associate Dean in 1996 and has remained in the position since. She did serve as interim dean from October 2007-June 2008 until a new dean was selected.
Deb has been a mentor, friend, and confidant to many students, staff, and faculty within the College of Technology. She recalls getting a phone call from Sherry Dewey to pick up a young man from the airport. He had flown to Pocatello from Yap and wanted to start the Diesel Technology program. She met him at the airport to discover he didn't have any luggage or money to attend school. Through research she found he had relatives in Montana. She bought him a bus ticket so he could stay with his family until he could start school in January. She and several other ISU staff worked to get a financial aid package put together and to get him accepted and ready for spring entry. "It was a neat experience watching him grow. The faculty took him under their wing and he ended up a true success."
When asked about the highlights of her career, Deb commented, "There has been a ton. This truly has been an exciting career because of the faculty, staff, and students. The people are awesome, students are fun, and there has never been a dull moment. I truly appreciate all the friends and co-workers I have had the pleasure of working with at the College and University,"
Deb has not only been an active and prominent staff member at the College of Technology but has volunteered her time throughout the University and community. Deb has been an active member of the Bengal Foundation for years, serving on the board of directors, a co-chair for the silent auction, and on several occasions as the co-chair for the annual Bengal Foundation Auction. She also oversees the basket auction at the annual Women's Holiday Fair.
In 1980, Deb and two other ladies started a summer softball program for young girls for the first time. She was actively involved in starting a women's softball league in Pocatello, as well as helping the league to become self supporting. The men's and women's leagues eventually merged and built what is now called the Riley Complex which houses four fields and grass infields. She has volunteered with Special Olympics, Pocatello Animal Shelter, Simplot Games, and at the 2002 Winter Olympics in Salt Lake City, Utah. In addition, Deb is an alum of the 1989 Leadership Pocatello class.
In recognition of her service Deb has received several awards. She received the Outstanding Service Award given by the Idaho Vocational Industrial Clubs of America (1980); the Dean's Certificate of Recognition in 1979, 1980, and 1982 for her efforts in coordinating the state VICA competition; and the State Lifetime membership for outstanding service to Idaho VICA in 1990. In 2005, Deb received the ISU Distinguished Service Award.
When asked what lies ahead, Deb responded that she is expecting to spend more time volunteering and more time at her cabin in Alpine. She stated "I will go where the wind blows me."
---
Categories: