Theatre/Dance ISU to present comedy play "The Menaechmi"
September 24, 2009
ISU Marketing and Communications
Theatre/Dance ISU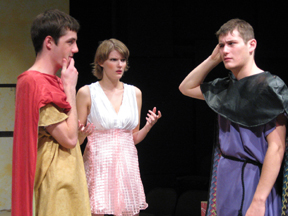 will present the comedy play "The Menaechmi" at 7:30 p.m. Oct. 2-5 and 8-10 in the Idaho State University L.E. and Thelma E. Stephens Performing Arts Center in the Beverly B. Bistline Thrust Theatre.
This is Theatre/Dance ISU's first production of the 2009-2010 season.
"The Menaechmi" features mistaken identity, mystery and intrigue. The play was written by Plautus, a Roman playwright who lived circa 254-184 B.C. Plautus's plays are some of the earliest surviving works in Latin literature. William Shakespeare is said to have based some of "The Comedy of Errors" on this play.
This production features student designers, original costumes and set design by the Theatre/Dance ISU faculty, staff and students.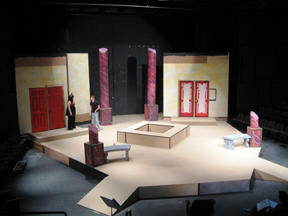 Ticket prices are $14 for adults, $8 for children ages 6-12 and $5 for ISU students with valid Bengal cards.
Tickets are available now at the Stephens Center Box Office, or by phone at 282-3595, from 10 a.m. to 4 p.m. Monday through Friday. The Box Office is also open at least one hour before shows. Tickets are available online at www.isu.edu/tickets or in person at Vickers Western Stores in Pocatello and Idaho Falls.
---
Categories: