The 5 Browns open ISU's "A Season of Note" series on Oct. 8
September 10, 2009
ISU Marketing and Communications
The 5 Browns, billed as "classical music's first family of piano virtuosos," will perform a concert at 7:30 p.m. Thursday, Oct. 8, to open the 2009-10 "A Season of Note" entertainment series.
The concert will be held in the Joseph C. and Cheryl H. Jensen Grand Concert Hall of the L.E. and Thelma E. Stephens Performing Arts Center.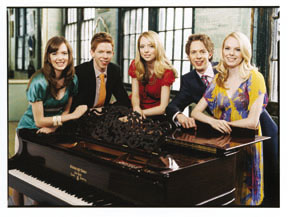 The 5 Browns will display their individual and collective mastery of the piano and their command of classical works by Rachmaninoff, Brahms, Chopin, Debussy, and Saint Saens. The five siblings are the first ever to be accepted simultaneously to New York's Juilliard School.
The quintet, from Utah, enjoyed their first wave of critical attention in February 2002 when People magazine dubbed them the "Fab Five" and at about the same time they were featured on Oprah and 60 Minutes. Soon thereafter, the 5 Browns signed with SONY BMG Masterworks and their success grew with the 2005 release of their debut album The 5 Browns on RCA Red Seal.
With the release of that work, the New York Post proclaimed: "One family, five pianos and 50 fingers add up to the biggest classical music sensation in years…When these kids do Rachmaninoff, they'll make you forget about Marshall amps."
By the end of 2005, the 5 Browns were one of the top classical artists of the year.
The group has done a nationwide U.S. tour in support of their latest CD Browns In Blue. Their latest effort features atmospheric classical and jazz-inspired piano music, performed with the sublime virtuosity that propelled these twenty-something year old siblings to the top of the nation's classical music charts first in 2005 with The 5 Browns, which spent eight weeks at No. 1 on the Billboard Classical chart, and the next year with No Boundaries, also No. 1 on the charts for 21 weeks.
For more information on the group visit their website www.the5browns.com.
Ticket prices are $36 main level, $32 upper level. Tickets can be purchased at the Stephens Performing Arts Center Box Office, from 10 a.m. to 4:30 p.m., over the phone at (208) 282-3595 or online at www.idahostatetickets.com. They can also be purchased in-person at Vickers Western Stores in Pocatello or Idaho Falls.
---
Categories: