Symphonic Band to perform concert Oct. 16 in Stephens Center
October 13, 2009
ISU Marketing and Communications
The Idaho State University Symphonic Band will perform its first concert of the semester this coming Friday, Oct. 16, at 7:30 p.m. in Joseph C. and Cheryl H. Jensen Grand Concert Hall in the L.E. and Thelma E. Stephens Performing Arts Center. The Symphonic Band is directed by Patrick Brooks, ISU Director of Bands.
The band will perform a wide-ranging program of band standards, new compositions and a works for soloist.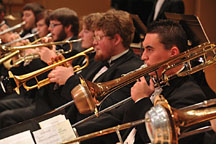 The band will begin the evening with the six-movement William Byrd Suite by Gordon Jacob. Based on the music the 17th-century English composer William Byrd, this set is a collection especially tuneful works by the composer including "The Earle of Oxford's March," "The Mayden's Song," and the spirited dance "Wolsey's Wilde." In great contrast, the band will next perform "Rise," a composition by 37-year-old American composer Steven Bryant. Composed in 2003, "Rise" is six-minute piece that scribes a single musical shape from beginning to end. From a quiet and reflective beginning, "Rise" slowly builds to a dramatic climax, finishing where it began with quiet contemplative music.
The soloist for the evening will be ISU music student Drew Sutherland on trombone. Sutherland will perform the dramatic "Morceau Symphonique" (Symphonic Piece) by late 19th-century French composer Alexandre Guilmant. Sutherland is a graduate of Pocatello High School, and a founding member of The Sutherland Brothers Jazz Combo.
The Symphonic Band will also perform the exciting "Symphonic Dance No. 2" ("The Maskers") by Clifton Williams, the haunting "Acrostic Song" from "Final Alice" by David Del Tredici, and "The Entertainer" rag by Scott Joplin in an arrangement for band by Arthur Frackenpohl.
The ISU Symphonic Band is comprised of 50 students from various degree programs throughout the university.
Admission information: ISU students, free; pre-college students, $2; ISU faculty and staff, $3; general admission, $5. Children under 6 will not be admitted. Call the Stephens Center Box Office at 282-3595 to purchase tickets.
For more information on this concert or about the ISU Bands, contact Brooks at 282-3147.
---
Categories: