President, CEO Bernstein of Nobel Learning Communities to visit ISU as Executive-In-Residence
September 15, 2009
ISU Marketing and Communications
George H. Bernstein, president and chief executive officer of Nobel Learning Communities, Inc., will be on the Idaho State University campus Nov. 9-12 as a special guest lecturer for the College of Business Executive-In-Residence program.
During his ISU visit, Bernstein will share experiences from his distinguished business career, focusing on the education, retail and services industries, as well as his experience in turnaround situations. His schedule calls for appearances at College of Business classes in operations and production management, policy and management, managerial and cost accounting, entrepreneurship and entrepreneurial finance.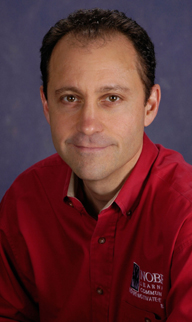 Bernstein earned his juris doctor, cum laude, from Harvard Law School in 1986 and his bachelor of science in business administration, summa cum laude, from Bucknell University in 1983.
His career began in 1986 when he joined the management consulting firm of Bain & Co., in Boston, where he was a senior consultant and team leader. In 1989 he was appointed vice president-marketing and real estate for N. Hess' Sons, Inc. of Baltimore, a footwear and accessories retailer. He became president and chief executive officer at Hess' in 1989.
In 1996, Bernstein became president and chief executive of AVC/nuVision of Flint, Mich., which was acquired by Cole National Corp. in 1997. Cole's consumer brands included Things Remembered, Pearle Vision, Sears Optical, Target Optical, B.J.'s Optical and Cole Managed Vision.
He was appointed senior vice president and general manager of Cole's Things Remembered unit in 1997. After a successful turnaround at Things Remembered, he moved to Cole's Optical division, serving in a number of roles, including president of vision operations in 1999. In this role, he was responsible he finance, merchandising and manufacturing for five Cole units: Pearle Vision, Sears Optical, Target Optical, B.J.'s Optical and Cole Managed Vision.
In 2000 Bernstein was named president of Pearle Vision, with full profit and loss responsibility for this national optical retailer and franchisor, with system-wide retail sales of $625 million and manufacturing and wholesale distribution sales of $40 million through 840 stores.
In 2003 he was recruited by the Nobel Learning Communities, Inc. board and private equity investors and named president, chief executive officer to develop and execute a turnaround, stabilization and growth strategy and then develop and execute a long-term strategic plan. Significant to this turnaround was the complete rebuilding of the management team, executing a portfolio analysis of its business units to identify and invest in the most viable businesses, reconfiguring the board of directors and guiding the company to Sarbanes-Oxley compliance.
Based in West Chester, Pa., Nobel Learning Communities, Inc. is a $220 million, NASDAQ-traded company (NLCI) that operates 185 private schools, including preschools, elementary schools, middle schools and online K-12 distance learning programs. Nobel Learning Communities operates a network 185 private schools in 15 states and the District of Columbia, employing more than 4,700; its Laurel Springs online K-12 program educates students in all 50 states and over 40 countries.
Bernstein received the Ernst and Young Entrepreneur of the Year® for the Business Consumer services category for Greater Philadelphia in 2008. He serves on the Bucknell University business advisory board and is often a guest lecturer in marketing and strategy at Bucknell. He was formerly a member of the board of advisors for the MBA fellows program, Sellinger School of Management, Loyola University, Baltimore.
"We are looking forward to welcoming Mr. Bernstein to ISU," said Ken Smith, Ph.D. CPA, dean of the College of Business. "His career trajectory is a model of ever-increasing responsibility and success."
About the ISU College of Business:
The Idaho State University College of Business prepares students to become business leaders in a world fueled by knowledge-based human capital. The information age demands technologically sophisticated leaders grounded in contemporary business practices and with the communicative and behavioral skills most sought by employers. ISU College of Business students learn from a faculty of the highest caliber, all dedicated to providing students a program built on a strong business education foundation, new ideas, big dreams and technological horizons. Accredited by AACSB International – The Association to Advance Collegiate Schools of Business – the ISU College of Business is rightfully known as "one of the best business schools in the world." Visit the ISU College of Business at www.cob.isu.edu.
About Idaho State University:
Idaho State University, a Carnegie-classified doctoral research institution founded in 1901, educates approximately 14,000 students per year in more than 280 programs. It is Idaho's lead institution in health professions and medical education. Its seven colleges engage in a broad range of innovative research, teaching, and learning in the natural and physical sciences, humanities, performing and visual arts, education, engineering, business, pharmacy, and technology. Visit ISU today at www.isu.edu or boise.isu.edu.
---
Categories: