Local artists, ISU students to have gallery openings at Transition, Mind's Eye galleries
August 28, 2009
ISU Marketing and Communications
The Idaho State University Pond Student Union will present two gallery openings on Monday, Aug. 31 at 7 p.m. in the Transition and Mind's Eye galleries.
In the Transition Gallery, located on the first floor of the Pond Student Union the exhibit "Explorations" will open. "Explorations" is a collaborative effort between four local artists, Amy Jo Popa, Jan Smith, Lynne Parker, and Judie Cantrill.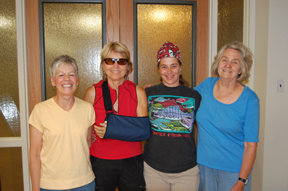 Cantrill has worked with glass for more than 30 years has been exploring new techniques with glass for the past decade. Parker received her Master of Fine Arts Degree from Idaho State University as well as her Bachelor of Arts Degree in liberal arts and metalsmithing, and is currently teaching metals and jewelry making for ISU's fine arts department. Popa is an assistant lecturer for the fine arts department and the John B. Davis Gallery director at Idaho State University. Popa's work is a combination of found and purchased materials, which when combined create organic forms that reflect shapes and textures of our natural world. Smith received her Master of Fine Arts Degree in metals from ISU and explores three-dimensional forms and themes in metal.
In the Mind's Eye Gallery, located on the first floor of the Rendezvous Complex, the ceramic works of ISU students Natalie McHugh and Chelsey Keim will be featured.
For further information about the Pond Student Union art galleries, contact Corinne McCullough at 282-3451.
---
Categories: