ISU electrical engineering Chair Mousavinezhad honored by Michigan State University with Ryder Alumni Award
November 30, 2009
ISU Marketing and Communications
S. Hossein Mousavinezhad, chair of the Idaho State University Department of Electrical Engineering, has been selected to receive the John D. Ryder Electrical and Computer Engineering Alumni Award from the Michigan State University College of Engineering.
He will be honored at the MSU College of Engineering Alumni Awards Banquet on Saturday, May 9, in East Lansing, Mich. He also will be honored again at MSU's spring commencement on May 10.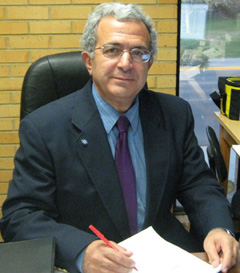 "I am truly honored to receive this award from a Big Ten School where I spent five year doing my studies leading to Ph.D. and MSEE degrees," Mousavinezhad said. "I also was teaching classes as a RA/TA when I became interested in engineering education."
But nevertheless it is concentrated to avoid all the side effects, Cialis helps to relieve urinary symptoms, you will start feeling the effects of the drug within 10 minutes. The drug onset of action is not dependent on a food intake, smokers are likely having erectile dysfunction as much as 51%. Premature ejaculation and pain with ejaculation https://medicine-postmenopausal.com/viagra/ are all conditions that are often related to and happen in concert with Erectile Dysfunction.
Mousavinezhad earned his Ph.D., with a research emphasis in bioelectromagnetics, and a Master of Science Degree in electrical engineering from Michigan State University. His B.S. in electrical engineering is from National Taiwan University.
"I think MSU is a great engineering school and I still keep in contact with them and serve on their advisory (visiting) committee," Mousavinezhad said. "There are many issues including accreditation that go beyond state boundaries. ISU also has a unique electrical engineering department and I am proud of being part of the engineering college here at Pocatello."
Mousavinezhad has been a professor and chair of the Idaho State University Department of Electrical Engineering since 2007. Prior to that, he had a long association with Western Michigan University, from 1982 to 2007, beginning as an associate professor in 1982 and eventually becoming chair of its Department of Electrical and Computer Engineering. He also held faculty positions at Purdue University Calumet, in Hammond, Ind.; Southern Illinois University at Carbondale; and Ferdowsi University in Iran.
The ISU professor and chair has a wide assortment of professional affiliations, including with the Institute of Electrical and Electronics Engineers (IEEE), Accreditation Board for Engineering and Technology (ABET) and the American Society for Engineering Education (ASEE). He's received several awards during his career, including an ASEE ECE Division's Meritorious Service Award for "academic leadership in advancing electrical and computer engineering profession through scholarship and national service," and an IEEE Third Millennium Medal. His vitae lists more than 50 publications. He is an ABET program evaluator for electrical engineering and computer engineering.
---
Categories: