ISU Counseling Director Paulson Receives AUCCCD Lifetime Achievement Award
November 10, 2009
ISU Marketing and Communications
Donald Paulson, director of the Idaho State University Counseling and Testing Center, has received the 2009 Lifetime Achievement Award from the Association for University and College Counseling Center Directors (AUCCCD).
This award recognizes and honors AUCCCD members who have provided outstanding service to AUCCCD and exemplary leadership in the field of college and university counseling centers.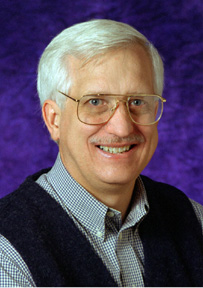 "It is an overwhelming honor to be recognized by your peers," Paulson said. "I am very touched by receiving this award."
Paulson was honored at the 60th Annual AUCCCD Conference on the theme "Celebrating the Beauty of Change" held in Asheville, N.C., in October.
Paulson received his bachelor's degree in psychology from Hamline University, his master's degree in education from Indiana University, and his doctorate in college student personnel from the University of Iowa.
He has been director, ISU University Counseling and Testing Service, and a faculty member in the Counseling Department at Idaho State University since August 1991. Prior to that he was at the University of Texas at El Paso (UTEP) where he also served as director of Counseling and Testing, as a faculty member and as director of admissions and registrar.
He has been an active member of the American College Personnel Association International (ACPA-I) where he served two terms on the Commission for Assessment of Student Development and one term on the Commission for Counseling and Psychological Services. He served two terms on the board for the AUCCCD as well as serving on two host committees for the AUCCCD annual national conference. Paulson has presented at regional and national conferences and published in the areas of retention, at-risk students, wellness, stress management, alcohol and drug abuse education and prevention, religious diversity, and crisis management.
The mission of the Association for University and College Counseling Center Directors is to assist college/university directors in providing effective leadership and management of their centers, in accord with the professional principles and standards of Psychology, Counseling, and Higher Education. AUCCCD promotes the awareness of college student mental health through research, education, and training provided to members, professional organizations, and the public with special attention to issues of diversity and multiculturalism.
---
Categories: