ISU 'A Season of Note' series to present The King's Singers Oct. 30 at Jensen Hall
October 20, 2009
ISU Marketing and Communications
Idaho State University's "A Season of Note" will present The King's Singers at 7:30 p.m. Friday, Oct. 30, in the Joseph C. and Cheryl H. Jensen Grand Concert Hall in the L.E. and Thelma E. Stephens Performing Arts Center.
According to The London Times this group is "still unmatched for their musicality and sheer ability to entertain."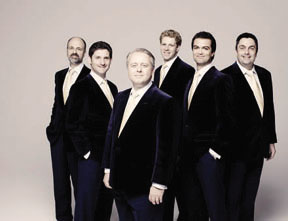 The King's Singers have put forth the highest caliber of a cappella performance since the group's inception at King's College, Cambridge in 1968. Now comprised of David Hurley (counter tenor), Timothy Wayne-Wright (counter tenor), Paul Phoenix (tenor), Phillip Lawson (baritone), Christopher Gabbitas (baritone) and Stephen Connolly (bass), the King's Singers continue to be one of the most sought-after and critically acclaimed vocal ensembles in the world, widely celebrated for their manifold repertoire choices and deep commitment to new works.
For more information on The King's Singers visit www.kingssingers.com.
Ticket prices are $32 for the main level and $28 for the upper level. Tickets can be purchased at the Stephens Performing Arts Center Box Office, open from 10 a.m. to 4:30 p.m. weekdays, by phone at (208) 282-3595 or online at www.idahostatetickets.com. They can also be purchased in-person at Vickers Western Stores in Pocatello or Idaho Falls.
###
---
Categories: