ISU 'A Season of Note' Series to Present 'A Rockapella Holiday' Dec. 8 at Jensen Concert Hall
November 17, 2009
ISU Marketing and Communications
Idaho State University's "A Season of Note" will present "A Rockapella Holiday" at 7:30 p.m. Tuesday, Dec. 8, in the Joseph C. and Cheryl H. Jensen Grand Concert Hall in the L. E. and Thelma E. Stephens Performing Arts Center.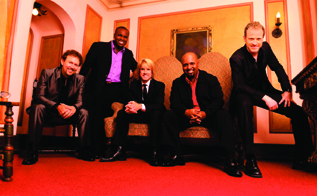 "A Rockapella Holiday" features five guys, with no instruments, presenting "jaw-dropping vocal dexterity" that the New York Post calls "pure magical talent." Audience members may recognize Rockapella from the theme song they produced "Where in the World is Carmen Sandiego?" These vocalists are one of the hottest acapella groups on tour today. The evening will include popular holiday songs, rock solid harmonies, passionate arrangements and boundless enthusiasm on stage and in the audience.
For more information on Rockapella visit www.rockapella.com. Ticket prices are $32 for the main level and $28 for the upper level. Tickets can be purchased at the Stephens Performing Arts Center Box Office, open from 10 a.m. to 4:30 p.m. weekdays, by phone at (208) 282-3595 or online at www.isu.edu/tickets. They can also be purchased in person at Vickers Western Stores in Pocatello or Idaho Falls.
---
Categories: