Idaho State University Jazz Bands concert set Nov. 20
November 12, 2009
ISU Marketing and Communications
The Idaho State University Jazz Band I and Jazz Band II will be presenting an exciting mix of cool and hot jazz in their first performance of the year on Friday, Nov. 20, at 7:30 p.m. in the Joseph C. and Cheryl H. Jensen Grand Concert Hal in the L.E. and Thelma E. Stephens Performing Arts Center.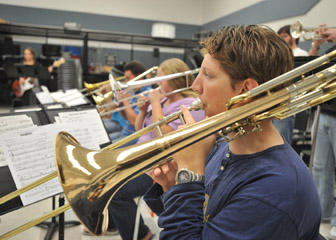 Jazz I director is Dr. Patrick Brooks, ISU Director of Bands. Kevin York, Associate Director of Bands, directs Jazz II.
Jazz I will perform eight selections, including "Basically Blues" by Phil Wilson, the Antonio Carlos Jobim jazz classic "No More Blues" in an arrangement that features saxophonist Bob Tuell and trombonist Drew Sutherland, and the classic Count Basie standard "Li'L Darlin." And jazz vocalist Katie will be featured on two selections; the Fats Waller classic "Ain't Misbehavin'" and the Ella Fitzgerald standard "A Tisket A Tasket."
Jazz II, directed by Kevin York, will perform a selection of jazz standards to include Herbie Hancock's "MaidenVoyage," and Mike Carubia's "Good Time Blues". ISU students Andrew Hanny (drum set) will be featured on "Brush Taps," and trumpeter Kayla Richards will be featured on the beautiful jazz ballad "Katy."
Admission to this concert is free to all ISU students with a Bengal activity card. For adult general public admission is $6, faculty and staff $4, and pre-college student admission is $2. For more information call the ISU Music Department at 282-3636.
---
Categories: