Idaho State University Homecoming award recipients announced; recognition dinner set Oct. 2
September 22, 2009
ISU Marketing and Communications
Idaho State University will honor current faculty, alumni and supporters with awards during 2009 Homecoming.
Recipients will be honored at the President's Alumni Recognition Dinner at 7 p.m. Friday, Oct. 2, at the Red Lion Hotel in Pocatello, 1555 Pocatello Creek Road. A reception at 6 p.m. will precede the dinner. Those wishing to attend should contact the ISU Alumni Office at (208) 282-3755 or e-mail alumni@isu.edu. The cost is $40.
Anthropologist and ISU faculty member Richard D. Hansen is being honored with the Idaho State University Achievement Award; Rafi Ahmed, current director of the Emory Vaccine Center at Emory University in Atlanta, Ga., is being honored with the Distinguished Alumnus Award; philanthropist, businessman and executive James E. Rogers is being honored with the William J. Bartz Award; Brigadier General Amos A. Jordan and athletic administrator Ronald Stephenson are receiving the President's Medallion; and business partners Dennis and Pam Moodie and educators Roger and Nancy Wheeler are Homecoming Parade Grand Marshalls.
Following are the honorees and their awards:
The Idaho State University Achievement Award recognizes personal actions, generosity and self-sacrifice on the behalf of the university by a faculty member. The award was established in 1984.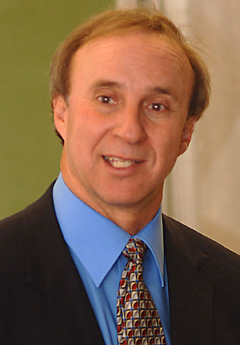 Richard D. Hansen is a specialist on the early Maya and is the director of the Mirador Basin Project in northern Guatemala, an extensive and complex archeological project. Visit the website www.miradorbasin.com for more information on his fascinating research, which will be featured in the Fall/Winter 2009-10 edition of Idaho State University Magazine.
Hansen is currently an affiliate research assistant professor in the Department of Anthropology at Idaho State University. He is the founder and president of the Foundation for Anthropological Research and Environmental Studies (FARES), a non-profit scientific research institution, based in Idaho.
Hansen graduated with a Ph.D. in archaeology from UCLA in January 1992. He earned B.S. degrees in both Spanish and archaeology from Brigham Young University in 1978, and a M.S. degree in anthropology in 1984.
While a Ph.D. student at UCLA, he was selected by the U.S. Department of Education as a National Graduate Fellow and a Jacob Javits Fellow from all college and university students throughout the nation in the arts, humanities and social sciences for five years. He was named the UCLA Distinguished Scholar in 1988, a Fulbright Scholar in 1990, the UCLA Outstanding Graduate Student in 1991 and the UCLA Chancellor's Marshall in 1992.
Hansen was awarded the National Order of the Cultural Patrimony of Guatemala by Guatemalan President Oscar Berger in the National Palace of Guatemala in December 2005. He has published 83 papers and book chapters in scientific and popular publications and has presented more than 168 professional papers in scientific symposia throughout the world. He has conducted and/or directed archaeological research in Israel, the U.S. Great Basin, the U.S. Southwest and Central America.
The Distinguished Alumnus Award recognizes exemplary professional and personal contributions resulting in national or international recognition.
Idaho State University alumnus Rafi Ahmed, current director of the Emory Vaccine Center at Emory University in Atlanta, Ga., was elected to the National Academy of Sciences this year.
He was one of 72 new members and 18 foreign associates elected earlier this year in honor of their distinguished and continuing achievements in original science.
Ahmed is considered one of the world's leading immunologists and has made groundbreaking discoveries on immune memory that have laid the foundation for understanding vaccine-induced immune responses. Rejuvenating the immune response to chronic viral infections is his most recent work focus. This research has the potential to help combat HIV/AIDS, hepatitis, tuberculosis and other infectious diseases. It also has potential for treatment of cancers.
"This is the highest honor your peers can bestow upon you, so that is a wonderful thing," said Ahmed, who earned a bachelor's degree in microbiology in 1972 and a master's degree in microbiology in 1974 from Idaho State University.
Ahmed, a native of Hyderabad, India, went on to earn his doctorate at Harvard University and has had a long and distinguished research career at McGill University in Montreal, Canada; Scripps Clinic and Research Foundation in La Jolla, Calif.; the University of California Los Angeles School of Medicine; and Emory University.
Academy membership is composed of approximately 2,100 members and 380 foreign associates, of whom nearly 200 have won Nobel Prizes. Election to the Academy is considered one of the highest honors that can be accorded a scientist or engineer
Ahmed is a professor of microbiology and immunology in the Emory University School of Medicine. He founded the Emory Vaccine Center. He is a Georgia Research AllianceEminent Scholar and is associate director of vaccine science for the Emory Center for AIDS Research.
The William J. Bartz Award recognizes continued support and development of ISU through personal actions, participation in University affairs and financial support.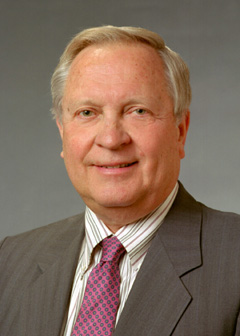 James E. Rogers was appointed by the Board of Regents to serve as the Nevada System of Higher Education's ninth Chancellor on May 6, 2005. He previously served as interim chancellor from May 2004 until his appointment. He retired on June 30 and returned to his television and banking businesses.
Rogers is a 1956 graduate of Las Vegas High School. He has degrees in accounting (B.S.) and law (LL.B.) from the University of Arizona and a Master of Laws (LL.M.) from the University of Southern California. He is a member of the State Bar Associations of Nevada, Arizona and California.
He is the founder and owner of Sunbelt Communications Company, which owns and operates 12 NBC and FOX affiliate television stations in five western states. Rogers was in active law practice in Las Vegas from 1964 to 1988, at which time he ceased practicing law to devote 100 percent of his time to the development of the television and radio stations of Sunbelt and various banks.
Rogers became a member of the Board of Directors of Nevada National Bank in 1981 and was Chairman of the Board for the years 1985-1987. He was a 1995 founder and served on the Board of Directors of Community Bank of Nevada until he left that bank to form Nevada First Bank in 1998. Nevada First Bank was recently merged with the Bank of Nevada where Rogers served on the board of directors. Rogers now serves on the board of directors of Meadows Bank.
An active supporter of education, he and his wife, Beverly, have made substantial financial contributions to various colleges and universities, including Idaho State University. In 1999 Rogers was listed as one of the top 12 philanthropists in the nation by Time Magazine, having given or pledged more than $275 million to various colleges and universities.
He has been a generous and active supporter of Idaho State University. He was the chairman of Idaho State University's first capital campaign, which raised $152.5 million. This is the Idaho's largest ever capital campaign to date. As part of the campaign he chaired, he and Beverly's $25 million gift to ISU is the largest gift ever received by this university. In 1999 ISU awarded Rogers an honorary degree of Doctor of Humane Letters. The University's mass communication department is named in his honor.
The President's Medallion was established in 2001 to honor friends and alumni whose outstanding accomplishments and exemplary service and support bring distinction to the University and advance higher education.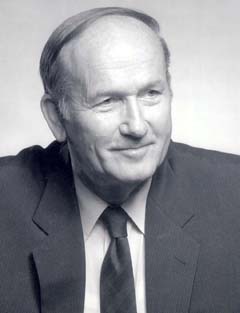 Amos (Joe) Jordan, an international and national security affairs educator, has served in senior government positions at home and abroad, both in military and civilian capacities, and has written extensively and taught at the U.S. Military Academy and Georgetown University in his field.
Also an experienced research institute leader, Jordan was President of the Center for Strategic and International Studies (CSIS) in Washington D.C. – one of America's most respected think tanks – from 1983 to 1988. Post-retirement, he was called back to head its Asia-focused, Honolulu based subsidiary, the Pacific Forum, CSIS from 1990-1994. He is currently Senior Adviser at CSIS and Counselor at the Pacific Forum.
Jordan received his B.S. from the U.S. Military Academy, then attended Oxford University as a Rhodes Scholar, earning B.A. and M.A. degrees in philosophy, political science and economics. He received a Ph.D. in international relations from Columbia University.
After serving in the U.S. Eighth Army and the U.S. Economics Aid Mission to Korea from 1954-55, Jordan returned to West Point as professor of social sciences and subsequently became head of the Academy's political science and economics programs. During his 17 years as an Academy professor, Jordan was periodically detailed to special assignments to the White House, the Secretary of Defense and the Commander of U.S. Forces in Vietnam.
He retired from military service in 1972 as a Brigadier General to become Director of the Aspen Institute. Two years later, he was back in government as Principal Deputy Assistant Secretary of Defense for International Security Affairs. In 1976, he became Deputy Undersecretary and Acting Undersecretary of State. He left government in 1977 to join the Center for Strategic and International Studies.
Jordan has been a consultant to the National Security Council, the Agency for International Development and other public and private organizations and has served on several presidential commissions and governmental study groups.
Jordan was born in Twin Falls and attended Burley and Heyburn schools. He attended the Southern Branch of the University of Idaho, now known as Idaho State University. He is married to MarDeane Carver of Pocatello and is the father of three sons and three daughters.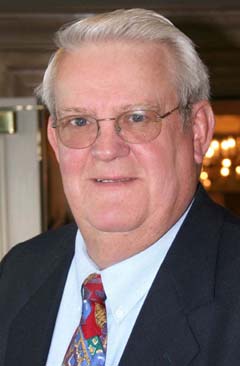 Ron Stephenson worked as a coach or athletic administrator for most of his professional life. He headed the Big Sky Conference as Commissioner for 14 years, retiring in 1995. After that time, he worked in commercial real estate for a number of years. Stephenson served as an assistant athletic director for two years at the University of Idaho and at Boise State University for 10 years. He also served as head tennis coach, head wrestling coach and athletic ticket manager at the University of Idaho.
Stephenson graduated with a bachelor's degree in business administration from Idaho State University in 1965, after attending Boise Junior College for two years. He later completed his Masters of Business Administration degree at the University of Idaho.
A graduate of Twin Falls High School, he was co-captain of his high school football team. He was named the Big Sky Conference Coach of the Year four times for tennis, 1967-1970. In 1995, he was honored by the National Collegiate Directors of Athletics for 30 years of service to intercollegiate athletics.
Stephenson has served on various NCAA committees. His expertise has benefited decisions ranging from regional basketball and football matters to the Knight Foundation Commission on Intercollegiate Athletics. He was a member of the National College Directors of Athletics, the College Athletic Business Managers Association and the Collegiate Commissioners Association. He also served in various capacities with the University Commissioners Association. Ron currently serves as a voting member of the Harris Football Poll, which is involved in selecting the participant in the college football Bowl Championship Series.
Stephenson has also served on the Idaho Statesman's editorial page committee and has served on the Idaho State Bar's Professional Conduct Board for approximately 20 years. Stephenson was selected as a member of the Idaho State University Alumni Association Board of Directors in 2003. He will complete a two-year term as President of the Association during Homecoming 2009. His work with the ISU Alumni Association has included support of many Boise-area events, including the ISU-Treasure Valley picnic. Ron has made a significant financial commitment to the proposed ISU Alumni and Visitors Center.
Homecoming Parade marshals are ISU faculty, staff or alumni who have made a significant impact on the ISU community and enjoy popularity among their colleagues and students.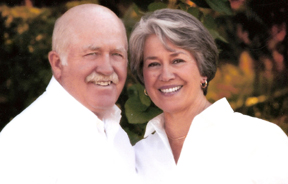 Pam and Dennis Moodie, both graduates from Salmon High School, attended Idaho State University where they met and were married in 1967. In 1970, Dennis earned a bachelor's degree in business administration and Pam received her certificate in secretarial occupations from ISU. Dennis, an active member of the Phi Sigma Kappa fraternity, also went through the ISU ROTC program at ISU and was commissioned as a 2nd Lieutenant in the U.S. Army.
Following graduation, the Moodies moved to Fort Knox, Ky., where Dennis attended Armor Officer Basic School and then went to flight school. He received orders to Vietnam in 1971 and flew helicopters there for 10 months, before returning to the United States.
Following his honorable discharge from the Army, the Moodie family, with daughter Kimberly and son Jason, moved to Boise where Dennis went through the management-training program at First Security Bank. At the same time he joined the Army Reserves, achieving the rank of major and commanding a detachment in Boise. Realizing that banking was not a career he wanted to pursue, he went to work for Morrison-Knudsen Company for a time before joining Valley Truss Company as a salesman in 1979. In 1986, Dennis and Pam purchased the company and operated the very successful business until they sold the company to their son, Jason, and a nephew, Mike Moodie, a couple of years ago. Dennis retired in 2005 and Pam partially retired last year. Pam served as the City Clerk for the City of Boise and later worked for a local dentist before joining Dennis at Valley Truss.
Dennis and Pam are very active in the ISU Alumni Association. In addition to serving on the Board of Directors, Dennis served on a variety of committees. Their two children and a daughter-in-law have earned degrees from ISU.
The Moodies have contributed financially to the ISU Bengal Foundation, The Freshman Scholarship Fund, the College of Technology Academic Enhancement Fund, the College of Business, the Colonel David Kirkpatrick Endowment and the Idaho State University Alumni Association Board of Directors Memorial Scholarships Endowment. In addition they have made a leadership gift to the ISU Alumni and Leadership Center.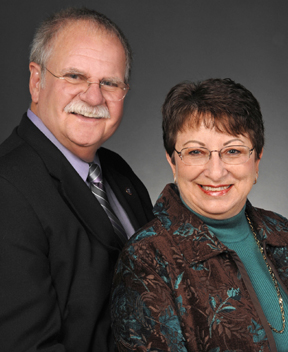 Roger and Nancy Wheeler were both raised in Idaho. Roger's hometown is Salmon and Nancy's is the Twin Falls area.
Roger came to Pocatello to attend Idaho State College, now Idaho State University, and never left. After getting his teaching degree, he began teaching for School District #25 in Pocatello. Nancy came to Pocatello to work for Idaho Power where she was working when she met Roger. They both lived in the same apartment building. After four months of dating they were married.
Their twins, Jennifer and Jason, were born while Roger was working on his master's degree in education. Until the twins were 6, Nancy enjoyed being a stay at home mom. After working as a teacher aide for a couple of years she began her college education and received her bachelor's degree in education, followed by her masters at ISU. Then Roger went back to school to get his education specialist degree.
Both of them worked for School District #25, Roger as an elementary principal and Nancy as an elementary teacher.
When it was time for their twins to go to college, both of them attended ISU for their first year. Jay went on to other schools and became an occupational therapist. Jenni continued her schooling at ISU and graduated with a double major in marketing and public relations.
The Wheelers, a self-proclaimed "ISU family," enjoy the Idaho State Civic Symphony, Camerata Singers and plays performed at ISU. Their athletic booster life started with seats on the 45-yard line when Holt Arena was built. They still have those seats and over the years have become basketball fans.
Following retirement, both Wheelers have found enjoyment in giving back to their community and ISU in a variety of ways. They have volunteered with the Presbyterian Church, Salvation Army, Idaho Food Bank, Habitat for Humanity and the AARP. You can usually find them at the ISU White Tent affair in the fall, at the spring and fall March Through the Arch ceremonies, on the ISU Alumni Homecoming parade float and often helping out in the Alumni Office stuffing envelopes or whatever needs to be done.
---
Categories: