ALMAS Club one of the largest, most active clubs at ISU-Idaho Falls
November 20, 2009
ISU Marketing and Communications
One of the largest and most active clubs at Idaho State University–Idaho Falls campus is the Asociación Latina Motivante A Superate (ALMAS), which is comprised of nearly 30 members.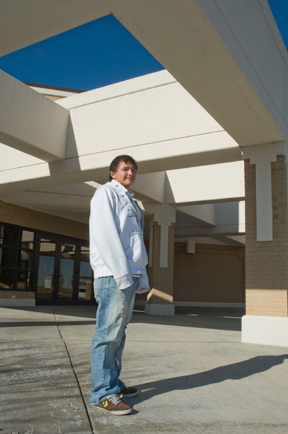 In English, ALMAS stands for "Latin Association Motivating You to Succeed." It is described on the ISU Student Organizations' website as a club that: "Encourages higher educational pursuits in the Hispanic community. Works to raise funds for scholarships and participates in and sponsors University and community related events."
One of 12 currently active clubs at ISU-Idaho Falls, ALMAS just isn't for Hispanic students, although the majority of its members are, noted ALMAS President Adam Sanchez, a sophomore majoring in exercise science.
"We don't just want Latinos to join the club," Sanchez said. "We also have non-Hispanic students in our club, too. We want more members with a diverse community in our club. We want to build unity between clubs and campus members. What we want to do is motivate each other to succeed in school."
ALMAS has been involved with and sponsored a variety of activities at University Place. It participated in the "Celebrate Your Future" event sponsored by ISU-Idaho Falls Enrollment Management, is involved with the Girl Scouts of America, members volunteer their time as mentors for students in Rigby middle schools, and sponsored a booth at this year's Halloween Carnival held in the Bennion Student Union for students and their families which attracted more than 600 people. ALMAS group members also volunteered their time for the Museum of Idaho's Latin Day, which is geared toward Spanish-speaking visitors.
"Words fall short in expressing just how proud I am of this great group of students and how much they support each other and our campus. They are truly amazing," said Ches Barnes, Student Government Advisor at ISU-Idaho Falls.
But the club is more than a collection of the events it puts on: club members provide support and guidance for each other, meeting in study groups in the Bennion Student Union and connecting for unofficial social activities.
"If one of our members is struggling in a class, generally someone in our club is in the class, has taken the class or knows someone who has taken the class and can help that person," Sanchez said. "We're here to help each other and, as our club name states, motivate each other to succeed."
"I joined the club to do community service," said Jorge Vasquez, a sophomore from Rexburg. "It is also my first year joining the club and I have met a lot of new friends."
Nancy Rincon, a sophomore from Idaho Falls, acknowledged the practical side of joining the club.
"We get together to do our homework and to study for tests," Rincon said. "It just helps a lot knowing somebody that is in your class or has taken the class that you are currently attending."
For more on student clubs at ISU-Idaho Falls contact Ches Barnes, director of the Bennion Student Union at (208) 282-7866.
---
Categories: