A legend lost: Italo I.J. "Babe" Caccia passes away at age 91
August 31, 2009
ISU Marketing and Communications
Italo I.J. "Babe" Caccia, the winningest coach in ISU's history in both football and baseball, passed away on Friday evening, Aug. 28, in Pocatello of natural causes. Caccia, who was five weeks shy of his 92nd birthday, was one of the most well known and beloved figures in Idaho State history. Caccia passed away on the day the high school football season opened on the field that bears his name.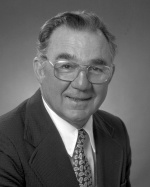 Caccia had a long career and association with Idaho State, starting in 1936, when he was a member of the Bengal football team. He eventually made his mark on Bengal athletics as a coach and administrator. His career football coaching record of 79-38-2 (67.8 percent) was compiled from 1952 to 1965. Among those seasons included unbeaten seasons in 1952 and 1957 and the 1963 Big Sky Conference championship in the first year of the league's existence. He also won five Rocky Mountain Conference championships, starting with his first two seasons of 1952 and 1953, and also in 1955, 1957, and 1959. Babe also coached baseball for eight seasons, 1967-74, and posted a 152-116 record. His 28-5 team in 1968 is considered the best baseball team in school history. Caccia also coached ISU's wrestling program as well.
Babe eventually moved into the role of administrator, serving as an assistant athletic director for 14 years and then athletic director for seven. One of his most successful moves as athletic director was the hiring of head football coach Dave Kragthorpe, who led ISU to the 1981 national championship.
Caccia was inducted in the ISU Sports Hall of Fame and the Holt Arena Ring of Honor. On Homecoming, October 7, 2007, the playing surface at Holt Arena was named Caccia Field and Idaho governor C.L. "Butch" Otter proclaimed October 3, 2007 as Babe Caccia Day in Idaho.
Since 2002, the Southern Idaho Chapter of the National Football Foundation has presented the "Babe Caccia Scholar-Athlete Award" to an Idaho State senior at their annual banquet in Boise. In 1999, Sports Illustrated named him one of the 50 most influential sports figures ever from the state of Idaho.
He was big in civic involvement, especially after his retirement from ISU. He served as a Pocatello City Councilman and was a founding member of Pocatello's Sports Committee, which has brought many sporting events, including two NCAA Division I-AA national championship football games, to the Gate City.
Babe met his wife of 35 years, Tracy, while coaching in Edmonton, Alberta, in the Canadian Football League after he had concluded his ISU coaching career.
Dr. Arthur C. Vailas, president of Idaho State University, said the following through university spokesman Graham Garner, "For many years Babe has been a face of Idaho State University to countless alumni, friends and followers of Idaho State University. His extraordinary impact was felt not only in athletics, but in academics and among thousands of students as well. His athletics success is well documented. But the depth of his feelings for the overall well-being of Idaho State University was profound and genuine. Often, he expressed his pride for and commitment to this University. As I have traveled the country meeting with friends and alumni, literally hundreds of ISU associates have expressed to me the wonderful experiences they enjoyed while on this campus — experiences certainly augmented by the impact for good that Babe had made on their life. Although we will miss Babe tremendously, we will always treasure him as part of the special ISU family."
One person in the athletic department that was very close to Caccia was head football coach John Zamberlin, who was seen talking to Caccia at length after last Saturday's scrimmage. "For the university and community and state of Idaho, we lost a great man," said Zamberlin. "Babe is someone who took me under wing and was a great mentor and a friend. I saw him on almost a weekly basis talk, whether it was football, or life, or fishing. I learned so much from him…I'm just stunned."
Zamberlin added, "You know he would call me up in the summer time and say `Coach, I got some plays I want to run by you'. It's tough, because we lost someone that's more than just a guy. He loved his wife Tracy, and his children and grandchildren. I really feel blessed got to know him and know him on a friendship level. He had a definite impact on my life."
Caccia is survived by his wife Tracy, daughter Heidi (Greg) Linehan of Genesee; sons Bill (Mary Jo) Caccia of Pocatello and John Caccia of Hailey; and five grandchildren, Solara, Emma, Thomas, Cody and Wyatt. He was preceded in death by his parents, sister, Lena Stevenson, and brother, Gene Caccia.
Funeral arrangements have not been announced by the family as of this time. Coach Zamberlin has said the team will honor Caccia with a decal to go on their helmet.
This story was written by Frank Mercogliano, Director of Media Relations, ISU Athletics
A "Babe" Caccia photo gallery and a tribute video are located online.
---
Categories: