2009 'I Love ISU' scholarship campaign raises more than $366,000 in pledges
September 30, 2009
ISU Marketing and Communications
The 2009 "I Love ISU" campaign raised $366,184 in pledges for Idaho State University scholarships, exceeding this year's goal by more than $11,000.
More than 230 area volunteers, with tenacity and commitment to Idaho State University and higher education, insured that the 2009 'I Love ISU' campaign would be a success, said KC Felt, ISU director of annual giving.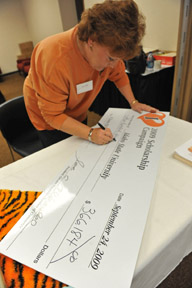 "Given the economic climate, we were anxious about the campaign and the response we would see from our supporters," Felt said. "However, as in previous years, the people of Southeast Idaho stepped up."
Associated Students of ISU President Ross Knight was presented the ceremonial check by Jennifer Bowen and Roger Wheeler, the 2009 campaign chairman and co-chairman at the annual Business After Hours at the Booth Barn, hosted by Watkins Distributing.
"Representing ISU students and accepting your pledge of support is an honor and I just want all of you to know how much this is appreciated," Knight said, when he accepted the check. "On behalf of all ISU students 'I LOVE ISU!'"
Groups of volunteer callers manned the phones in Pocatello, Idaho Falls, Blackfoot and American Falls. Though all were working toward the same goal, much good-natured competition between teams was present, Felt said.
In addition to the group calling efforts, many of the leaders of the campaign participated in a first-time event in partnership with Mary and Mike Johnson, owners of McDonald's restaurant, "I Love ISU Night @ McDonald's." This group of volunteers did everything from running the cash register, preparing meals, manning the drive-in and bussing the tables. Through their efforts and the generosity of McDonald's more than $1,100 was raised in four hours. Due to this success, planning for this event in 2010 is already underway.
"We had to work not only harder but smarter this year and our volunteers embraced that idea," Felt said. "Because of their efforts we exceeded our goal and had the greatest number of pledges we've ever had in this campaign. My sincerest thanks to all who participated and to all who support our efforts."
---
Categories: