Why voters use political blogs: ISU researcher wins national award
April 15, 2008
ISU Marketing and Communications
Daekyung Kim, Ph.D., an assistant professor in the James E. Rogers Department of Mass Communication at Idaho State University, recently won a first-place award for his research paper, "Political Blog Readers: Predictors of Motivations for Accessing Political Blogs."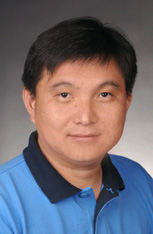 The competition was sponsored by the Communication Technology Division at the 2008 Broadcast Education Association.
Noting the growing popularity of blogs as an information medium, Kim focused on blogging's political impact. Blogs are online diaries or commentaries that readers can respond to and easily pass on to friends.
Kim's study surveyed online political users to explore why users access political blogs after he wondered, "What motivates bloggers?"
"I found that many Internet users are attracted to political blogs, where they can freely express their opinions and communicate with like-minded people," Kim said. "This seems to show the potential of blogs as an interactive forum with few controls. This study may offer useful insights into the roles of blogs during presidential elections and in politics in general."
Kim joined ISU as a faculty member in 2006. The primary focus of his research is on the social, cultural and political consequences of new communication technology, especially the Internet's interactive technologies.
The 2008 BEA annual conference was held in Las Vegas, Nev., in mid-April where Kim will present his paper to international communication scholars.
For more information on this topic, or to schedule an interview with Kim, please contact him at 282-2751 or kimdk@isu.edu.
---
Categories: