Swetnam becomes first to receive all three Distinguished Faculty Awards
May 8, 2008
ISU Marketing and Communications
Susan Swetnam, Ph.D., Idaho State University professor of English, has become the first University faculty member to be awarded all three of ISU's highest faculty honors – Distinguished Teacher, Public Servant and Researcher.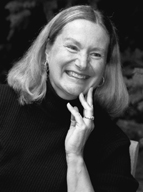 "Dr. Swetnam represents the type of excellence that truly enhances the recognition of Idaho State University and brings significant benefit to our students," said Arthur Vailas, Ph.D., ISU President.
Swetnam was honored May 10 at the Idaho State University commencement ceremony as the 2008 Distinguished Researcher. She was honored as Distinguished Teacher in 1988 and as Distinguished Public Servant in 1996.
"I've been calling it my 'hat trick,'" Swetnam joked, referring to the term hockey and soccer players use for scoring three goals in one game, but she then grew earnest.
"The three really do go together well," she continued. "Because I believe faculty members need to do all three things. I also feel incredibly honored to be the first one to receive all three, considering all the amazing faculty members we have at this University."
The research award has been especially gratifying.
"I'm thrilled with the Researcher Award because I am engaged in humanities research, and I'm also a writer of creative nonfiction," she said. "Creative writing isn't always recognized as 'legitimate research,' but it is every bit as hard to get a piece of creative writing published in a national publication as it is standard scientific work. It may actually be harder, in a good journal."
She has written or has in publication seven books, ranging in topic from "Lives of the Saints in Southeast Idaho: An introduction to Mormon Pioneer Life Story Writing" to "Home Mountains: Reflections from a Western Middle Age." Swetnam has written numerous articles, chapters and introductions for books, and she has published creative nonfiction essays and magazine articles in a variety of national and regional publications, from "Gourmet" magazine to "New Works Review," in which she is currently Featured Writer. She is a noted food writer and historian. Her first book-length essay collection won an Idaho Library Association prize; her second was published last year by Loyola, Chicago.
Her scholarly research and publications focus on Western American culture and literature. She has worked to dispelled myths and bring a wide range of writers, especially women writers, to public awareness. In a soon-to-be-published book, Swetnam explores historical support for books and reading in the region, correlating grassroots interest in Carnegie libraries with local social and political values.
Teaching is central to the suburban Philadelphia native's life.
"I love teaching, and I can't imagine life without it," said Swetnam, who for most of her 29-year career at Idaho State University has carried a "three and three" load, teaching three classes per semester.
Her public service work is varied, from being a former Girl Scout troop leader and member of a volunteer fire department, to extensive work for many years with the National Endowment for the Humanities and the Idaho Humanities Council.
"We joke with Susan, calling her 'road scholar' for all the work she has done lecturing throughout Idaho, doing a lot of work for the Idaho Humanities Council," said Rick Ardinger, executive director of the IHC. "She has really taken the humanities off campus and reached out into rural communities, furthering the mission of the Idaho Humanities Council."
Swetnam earned her Bachelor of Arts and Master of Arts degrees in English from the University of Delaware and her Ph.D. in English from the University of Michigan. She credits her success to a number of things: she loves her vocation and colleagues; she loves where she lives; and a lot of exercise doesn't hurt, either.
She was complimentary of her department, saying "we have a lot of camaraderie; we work hard and take teaching students seriously." Swetnam also said she was especially grateful for the atmosphere at Idaho State University, which has allowed her research and writing to evolve.
"This has historically been a place of intelligent and widely-curious generalists, as opposed to other universities where you can be pigeon-holed into one narrow area," she noted.
The professor, who lives in the Mink Creek area south of Pocatello, said she fell in love with the landscape of southeast Idaho upon her arrival in 1979.
"All this sky is spectacular. I can leave campus at 4 p.m. on a summer day, go home and walk up to Crystal Summit or Porcelain Pot (hiking areas on the Caribou National Forest near Pocatello) and just drink in the quiet, and be home before dark," she noted. "You can't do that everywhere."
She runs regularly, hikes and skis in the local mountains often, and lifts weights weekly.
"Energy makes energy," she said, referring to her exercise routine.
Swetnam also draws inspiration from one other important source, her late husband, former ISU faculty member and Distinguished Teacher Ford Swetnam, who died in 2002.
"My creative writing really took off after he died," she said. "He was a world-class poet, and I feel like I'm now drawing on his creative energy along with mine in a way that I can't explain."
---
Categories: